Mottaki made the comment in a speech at an international conference on disarmament in Geneva.
He did not specify what kind of guarantees Iran is prepared to give.
Iran's government spokesman said earlier today that Iran had no intention of suspending uranium enrichment, the key demand of the Security Council.
Iran says its nuclear program is entirely peaceful.
But Western countries remain suspicious about Iran's nuclear intentions and aim to curb the country's sensitive nuclear activities.
(AFP, IRNA)
Avoiding International Isolation
Avoiding International Isolation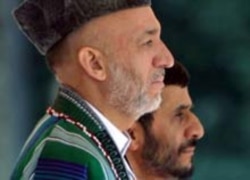 Afghan President Hamid Karzai (left) with Iranian President Mahmud Ahmadinejad in Tehran on May 27 (epa)
DIPLOMATIC OFFENSIVE:
As the United States and the European Union increase pressure on Iran regarding its nuclear program, Tehran has launched a wide-ranging and ambitious diplomatic offensive, including high-level state visits with countries including China, Indonesia, Afghanistan, Azerbaijan, and Pakistan. In May, Iranian President Mahmud Ahmadinejad participated in a high-profile
summit of the so-called Developing 8 (D8) group
of countries in Bali. Below are some links to RFE/RL's coverage of Iran's efforts to boost international support for its position.
Tehran's Shanghai Plans Seen As Bold Geopolitical Stroke
Nonaligned Movement Expresses Support For Iran
Afghan, Iranian Presidents Tout Strong Historical Ties
Iranian Foreign Minister In Pakistan For Energy Talks
Iranian Foreign Minister Visits Baghdad
ARCHIVE
To view all of RFE/RL's coverage of Iran, click here.

THE COMPLETE STORY: RFE/RL's complete coverage of controversy surrounding Iran's nuclear program.