During a visit to Moscow today, U.S. Deputy Energy Secretary Clay Sell said Moscow's actions were "consistent with our common interests and common concerns."
Russia on March 12 said construction of the plant would be delayed due to Iran's failure to make payments, a charge Tehran denies.
Atomstroieksport, the Russian state company responsible for building the plant, said today the payment delays could cause "irreversible" damage to the project.
Meanwhile, Iran's chief nuclear negotiator Ali Larijani said today that any delays in building the plant would endanger Russian-Iranian trade relations.
Washington opposes the Bushehr project, saying Iran could use the know-how for nuclear weapons.
(AP, AFP)
What The Street Thinks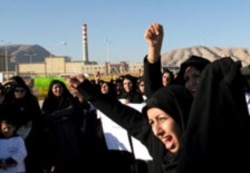 A demonstration in support of Iran's nuclear program outside the Isfahan uranium-conversion facility in Isfahan in January (epa)

IRANIANS SPEAK OUT ON THE DISPUTE: To find out more about what Iranians think about the international controversy over their country's nuclear program, RADIO FARDA asked listeners to express their views....(more)
See also:
Iran: Public Has Mixed Feelings On Nuclear Issue

THE COMPLETE PICTURE: RFE/RL's complete coverage of controversy surrounding Iran's nuclear program.
CHRONOLOGY
An annotated timeline of Iran's nuclear program.