World's Oldest Person Turns 116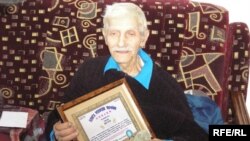 By Halyna Tereshchuk http://gdb.rferl.org/E9B0A479-E418-4373-933E-B1232529A4FC_w203.jpg Hryhoriy Nestor at home today (RFE/RL) STARY YARICHIV, Ukraine; March 15, 2007 (RFE/RL) -- He's never smoked, never abused alcohol, and never married. But he prays every day.
Hryhoriy Nestor, who celebrated his 116th birthday today, attributes his longevity to all of those things.
A former shepherd and now the world's oldest living person, Nestor credits his astonishing longevity to clean living. His birthday tipple was nothing stronger than a glass of champagne diluted with water and fruit juice.
Nestor says the single life has also contributed to his singularly long lifespan.
"I have lived to this day and I have no regrets," he told RFE/RL. "If I had been married, I would have been buried a long time ago."
Nestor has official documents proving that he was born on March 15, 1891, in what was then the Austro-Hungarian Empire.
He is nearly two years older than the oldest living woman, Yone Minagawa of Japan, who turned 114 in January. But he will have to celebrate at least seven more birthdays to break the all-time longevity record of 122 years.
Asked about death, Nestor took a philosophical view.
"It must be good there," he said. "If it was bad, at least someone would have run away."
Among Nestor's well-wishers was Ukrainian President Viktor Yushchenko, who sent a telegram congratulating him on bearing witness "to more than a century of our homeland's history."