South Africa -- this month's council president -- wants a 90-day pause on imposing new sanctions on Iran, something mentioned in the past by Muhammad el-Baradei, head of the International Atomic Energy Agency.
South Africa also wants to drop from the current draft resolution an embargo of arms exports and financial sanctions targeting Iran's Revolutionary Guards and Bank Sepah.
Acting U.S. Ambassador to the UN Alejandro Wolff said the five permanent members of the Security Council -- which drafted the current draft along with Germany -- discussed the South African proposals on March 19.
The British and French UN ambassadors said South Africa's suggestions were not "helpful."
The South African move could delay a vote on the resolution, although with support from all five permanent members the current draft is likely to be adopted.
Western nations want Iran to stop uranium enrichment, which they suspect could be used for making nuclear weapons. Iran says its program is for peaceful purposes only.
(AFP, Reuters, AP)
Avoiding International Isolation
Avoiding International Isolation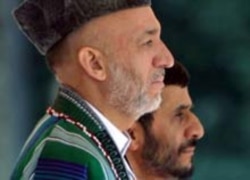 Afghan President Hamid Karzai (left) with Iranian President Mahmud Ahmadinejad in Tehran on May 27 (epa)
DIPLOMATIC OFFENSIVE:
As the United States and the European Union increase pressure on Iran regarding its nuclear program, Tehran has launched a wide-ranging and ambitious diplomatic offensive, including high-level state visits with countries including China, Indonesia, Afghanistan, Azerbaijan, and Pakistan. In May, Iranian President Mahmud Ahmadinejad participated in a high-profile
summit of the so-called Developing 8 (D8) group
of countries in Bali. Below are some links to RFE/RL's coverage of Iran's efforts to boost international support for its position.
Tehran's Shanghai Plans Seen As Bold Geopolitical Stroke
Nonaligned Movement Expresses Support For Iran
Afghan, Iranian Presidents Tout Strong Historical Ties
Iranian Foreign Minister In Pakistan For Energy Talks
Iranian Foreign Minister Visits Baghdad
ARCHIVE
To view all of RFE/RL's coverage of Iran, click here.

THE COMPLETE STORY: RFE/RL's complete coverage of controversy surrounding Iran's nuclear program.