The so-called "Anniversary Of The Political Lie" event, sponsored by the German-based Peter Weiss Foundation, will see selections from her reporting on Chechnya broadcast in places as disparate as Russia, Canada, Palestine, and Sudan.
Politkovskaya's supporters want to ensure that her reporting work from Chechnya stay clear in the minds of readers in Russia and worldwide -- even as details surrounding her murder remain murky.
RFE/RL's Russian Service is among the dozens of broadcasters presenting readings from Politkovskaya's second book on Russia's war in the North Caucasus, "A Small Corner Of Hell: Dispatches From Chechnya."
Selections included account of Rosita, a grandmother from the Chechen village of Tovzeni, who in 2001 was tortured by Russian forces with electric shock treatment.
The officers, who were young enough to be her sons, told her they were Federal Security Service officers. They connected bare wires to the fingers of both her hands and threw the wires across her neck, from behind.
"I really screamed when they switched on the current. But I took all the rest silently. I was afraid to anger them any further."
The FSB men kept saying, "You're not dancing very well. We need to add a little more," referring to Rosita's convulsions. And they added some more.
What did they want?
"They didn't ask me anything."
Politkovskaya's works will be read today in some 20 countries. Ulrich Schreiber, the director of the Peter Weiss Foundation, says he hopes the exercise will heighten awareness, "especially among the young generation, about this war in Chechnya and about the political circumstances in Russia."
"There's not a lot of light in the mass media concerning Chechnya. And especially after Anna Politkovskaya was killed, I thought there was even more reason to bring her reporting work to the radio stations," Schreiber said.
The Peter Weiss Foundation held the first such reading on March 20, 2006 -- the third anniversary of the U.S.-led invasion in Iraq -- with a recitation of U.S. writer Eliot Weinberger's work "What I Heard About Iraq."

Reading Politkovskaya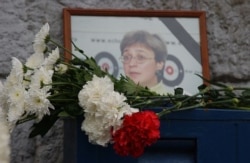 A memorial for Anna Politkovskaya in Moscow shortly after her murder (epa)


'A SMALL CORNER OF HELL': RFE/RL's Russian Service invited a number of prominent Russians to read passages from Anna Politkovskaya's second book on the war in the North Caucausus, "A Small Corner Of Hell: Dispatches From Chechnya" (see transcripts in Russian).The excerpts below are in Russian and are each about five minutes long.
LISTEN
Nikita Belykh, head of the Union of Rightist Forces:
Real Audio Windows Media
Sergei Buntman, political commentator with Ekho Moskvy:
Real Audio Windows Media
Andrei Babitsky, RFE/RL Russian Service correspondent:
Real Audio Windows Media
Vyacheslav Izmailov, "Novaya gazeta" journalist:
Real Audio Windows Media
Marianna Maksimovskaya, host of REN-TV's "Nedelya":
Real Audio Windows Media
Eduard Limonov, head of the National Bolshevik Party:
Real Audio Windows Media
Svetlana Sorokina, television journalist:
Real Audio Windows Media
CHRONOLOGY
The
fighting in Chechnya
has raged, with short breaks, since 1994. It has brought misery, death, and destruction to the North Caucasus republic and to Russia as a whole. View an
annotated timeline
of the conflict
.

ARCHIVE
RFE/RL's complete coverage of Russia's war-torn Republic of Chechnya.