The bill's supporters say such legislation is necessary to fight racism, but journalists and human rights activists say it will have the opposite effect.
Each year in Russia, hundreds of ethnic minorities are attacked and scores are killed in what human rights activists describe as hate crimes.
Proposed amendments to the media law would also forbid the publication or broadcast of the religion of crime suspects and victims.
Fears Of Increased Attacks
Journalists and human rights activists say the changes -- if enacted -- will actually do little to reduce racially motivated attacks -- and could actually make the situation worse.
Oleg Panfilov, director of the Russian Center for Journalism in Extreme Situations, says, "If this law really comes into force, then people will not know about the victims of skinheads, nationalists, and fascists."
Police and prosecutors in Russia have long been reluctant to recognize racially motivated hate crimes as such. When such crimes are prosecuted at all, they tend to be treated as simple cases of "hooliganism."
'You're just tying reporters' hands and their voices obviously, and preventing themfrom telling the real story.'
Analysts say legislation effectively banning the media from reporting on racial attacks would just push the problem deeper and deeper into the shadows.
Galina Kozhevnikova, the deputy director of the Sova Center, a Moscow-based organization that tracks hate crimes, says her group has already witnessed a tendency to hide this kind of crime.
"Even without any laws, newspapers are reporting less and less about these types of crimes when in reality they are happening more and more. This partially comes from the law enforcement bodies who are trying to hide the magnitude of the problem," Kozhevnikova says.
'Migrants'
Analysts also say that those who wish to spread ethnic intolerance through the media would still be able to do so.
"We have seen hostile language in the press. And we are also witnessing the manipulation of neutral rhetoric that can also be interpreted as ethnic," Kozhevnikova says. "The word migrant, which is social rhetoric, is today used in Russia exclusively to mean non-Russians"
Arlene Morgan, associate dean of the Columbia University Journalism School in New York, says U.S. and Western media organizations are careful not to perpetuate racial and ethnic stereotypes in their reporting. Such practices, she says, are voluntary and are the subject of professional ethics.
"You really need to think very carefully about why you are including the race or ethnicity or religion of a person. It has to really be meaningful to the telling of the story," Morgan says.
"And I think those guidelines serve us pretty well because you don't want to perpetuate stereotypes and you don't want to perpetuate racial hatred. But you also need to be pretty clear when that [a person's race or ethnicity] is germane [to the story]," she adds.

But Morgan, who specializes in issues of race and ethnicity in media, said she sees no benefit in an outright legislative ban like the one proposed in Russia.
Moreover, Morgan says identifying a victim's race, ethnicity, or religion is absolutely necessary when reporting on hate crimes.
"It [the proposed ban] doesn't make any sense to me because if it is a hate crime there has to be a reason for the hatred. Usually it is because of somebody's race or ethnic or religious background. I mean that's what the whole thing is about," Morgan says.
"So to basically ban reporters from delving into those issues, I mean, you're just tying their hands and their voice obviously, [and preventing them] from telling the real story. You might as well not do the story. Which, it seems to me is what they are trying to do. To try to curb any kind of storytelling around these issues."
Silencing Journalists
And many analysts say this is exactly the point of the legislation -- preventing troublesome journalists from reporting on a troubling issue.
Panfilov from the Russian Center for Journalism in Extreme Situations says the law, if approved, will be used selectively. "If this law comes into force it will be used only against independent journalists and against those journalists that criticize the authorities," he says.
The Moscow city legislature has submitted the legislation to the Russian State Duma. Moscow City Duma Speaker Vladimir Platonov was unavailable for comment.
As a result of the growing concern about the legislation, the Russian Public Chamber, which oversees and evaluates the work of parliament, has announced plans to hold hearings on the bill's possible effects.
Epidemic Of Hate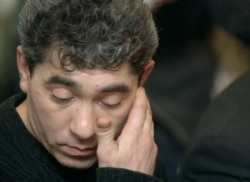 Yusuf Sultonov, whose 9-year-old daughter was beaten and stabbed to death in St. Petersburg on February 9, 2004 (TASS)

EXTREMISM ASCENDANT: More than half of Russians have xenophobic views, according to a report published in August 2005. In the report, rights groups say that -- despite progress in some areas -- racism, xenophobia, and anti-Semitism remain rife in Russia. But what worries watchdogs most are recent moves by nationalist-patriotic movements to form paramilitary groups....(more)
RELATED ARTICLES
A Timeline Of Recent Racial Incidents
Russian Ombudsman Condemns Hate Crimes
Hate Crime Trial Highlights Mounting Racism
Minister Says Russia Can't Stop Xenophobia Alone
For African Students In Russia, Affordable Education Comes At A Price
ARCHIVE
To view an archive of all of RFE/RL's coverage of Russia, click here.

SUBSCRIBE
For a regular review of civil-society developments throughout RFE/RL's broadcast region, subscribe to "RFE/RL (Un)Civil Societies."


RFE/RL IN RUSSIAN: Visit RFE/RL's Russian-language website, featuring news, analysis, features, streaming audio, and more in Russian, courtesy of RFE/RL's Russian Service.