Rolling Stones To Tour Balkans, Eastern Europe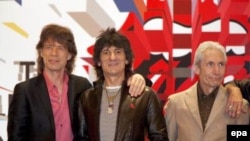 Members of the Rolling Stones speak to journalists (file photo) (epa) March 22, 2007 --- Legendary rock group the Rolling Stones will help Montenegro celebrate its independence by performing a concert in the country as part of their newly announced European tour.
The British rockers will also make their first-ever appearances in Serbia, Romania, and Ukraine.
In Montenegro, the Stones will play on July 9 in the coastal resort of Budva. The band will also play in Belgrade on July 14. Their first Romanian show will take place on July 17 in Bucharest, and they will stop in the Kyiv on July 25.
(Reuters)