Authorities had not given permission to hold the rally on a square in the city center as planned.
Despite the presence of hundreds of riot police, several hundred protesters gathered in the vicinity of the square.
Organizers told RFE/RL that police dragged dozens of activists into police buses and took them to police stations.
Dozens of activists were also reportedly detained on their way to the rally.
The rally was part of a protest movement known as the March of Dissent that is being organized by liberal and leftist forces. Its leaders include former Prime Minister Mikhail Kasyanov, former world chess champion Garry Kasparov, and independent lawmaker Vladimir Ryzhkov.
(with agency reports)
Russia's NGO Law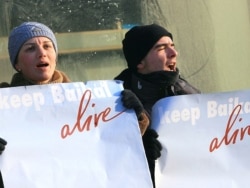 Russian environmental activists demonstrate in February 2006 against a proposed oil pipeline that they believe would have harmed Lake Baikal (TASS)


CLAMPING DOWN ON ACTIVISM. The authors of a report on Russia's controversial law on nongovernmental organizations issued by the U.S. Commission on International Religious Freedom told an RFE/RL briefing in Washington that the law places "disturbing" restrictions on NGOs.
LISTEN
Listen to the entire briefing (about 75 minutes):

Real Audio
Windows Media
RELATED ARTICLES
Foreign NGOs Rush To Beat Registration Deadline
Scrutiny Of Foreign Funds Hurts Democracy Programs
Spy Scandal Highlights Mounting Pressure On NGOs
U.S. Official Says New NGO Law Part Of Antidemocratic Trend

SUBSCRIBE
For a regular review of civil-society developments throughout RFE/RL's broadcast region, subscribe to "RFE/RL (Un)Civil Societies."