Turkish and Armenian officials will attend a ceremony marking the reopening of the Akdamar Church, which is perched on an island in eastern Turkey's Lake Van. The church will reopen as a museum.
Armenia's Deputy Culture Minister Gagik Gyurjyan and a 20-member delegation of officials, historians, and experts traveled to Turkey for the ceremony.
Patriarch Mesrob II, the spiritual head of the Armenian Orthodox community in Turkey, and Turkish Culture Minister Atilla Koc are also scheduled to attend.
The ceremony is seen as a good-will gesture between Armenia and Turkey.
The two countries have no diplomatic ties and relations have been frosty over the mass killings of Armenians in Turkey around the time of World War I, which Armenia describes as genocide, and Armenia's continued occupation of the Azerbaijani territoy of Nagorno-Karabakh.
(AP, AFP)

Examining History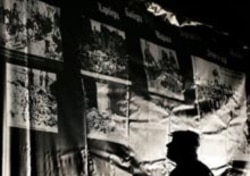 CALL IT GENOCIDE? Questions surrounding the mass killings of Armenians at the beginning of the last century continue to dominate relations between Armenia and Turkey. In April, Ankara proposed conducting a joint Armenian-Turkish investigation into the mass killings and deportations of Armenians during World War I.
Turkish leaders suggested that the two countries set up a joint commission of historians to determine whether the massacres carried out between 1915 and 1917 constituted genocide. Armenia, however, insisted it would continue to seek international recognition and condemnation of what it says was a deliberate attempt at exterminating an entire people....(more)
See also:
Armenians Mark 90th Anniversary Of Start Of Massacres
Armenia: Tragedy Remains On Europe's Political Map
ARCHIVE: For a complete archive of RFE/RL's coverage of Armenia, click here.