Today there was another example of how complicated the democratic process can be.
Kyrgyz Prime Minister Azim Isabekov announced his resignation this morning after only two months in office, and it was quickly accepted by President Kurmanbek Bakiev.
Although no reason for the resignation was immediately given, a major rift opened between Isabekov and Bakiev on March 28 when the prime minister dismissed seven ministers, seemingly without consulting the president.
"Atambaev is a compromise figure and a representative of the opposition," former Foreign Minister Roza Otunbaeva said. "I believe he will try to resolve all the major issues on our agenda."
Within hours of the dismissals, Bakiev said publicly that he thought the sacking of the ministers was a bad idea and refused to accept the dismissals.
'A Political Corpse'
Bakiev quickly accepted Isabekov's resignation today and nominated opposition leader Almaz Atambaev to be the new prime minister. That Bakiev would choose Atambaev is an indication of how complicated political alliances in Kyrgyzstan are these days.
Atambaev, the leader of the Social Democratic Party, was until recently a member of the opposition For Reforms movement, which has been pressuring Bakiev to implement constitutional reforms for nearly a year.
Ahead of a massive rally in Bishkek late last year to demand those reforms, Atambaev was clearly not a supporter of the president, saying there was no point in holding talks with Bakiev.
"Why should we hold negotiations with a political corpse?" Atambaev said at that time. "He is a political corpse. A person who sits as the head of state and constantly lies to the people -- this is a political corpse."
Atambaev now seems destined to be the next prime minister. His appointment, should it come, could prove to be of immediate help to Bakiev, as former Foreign Minister Roza Otunbaeva, of the new political group For a United Kyrgyzstan, pointed out.
"Atambaev is a compromise figure and a representative of the opposition," Otunbaeva said. "I believe he will try to resolve all the major issues on our agenda. Right now, we say that the main thing is to establish a coalition government while, at the same time, carrying out constitutional reforms."
Atambaev and Otunbaeva were among several prominent opposition leaders who this week formed the new political bloc For a United Kyrgyzstan. That group is calling for constitutional reforms, but wants Bakiev to stay in office until the end of his term in 2010, unlike the United Front for a Worthy Future for Kyrgyzstan movement. That group was formed last month and is currently organizing rallies to call for Bakiev to resign.
Protests To Proceed
Azamat Kalman of the United Front said Atambaev's possible appointment makes no difference to plans for protests to force early presidential elections.
"[Bakiev] believes in Almaz Atambaev," Kalman said. "Apparently, Atambaev made him believe that he can stop the rallies on [April 11]. He is deeply mistaken. The planned rallies, set for April 11, will be held. They will be. Our demands are the same -- carrying out an early presidential election."
Atambaev's former group, the For Reforms movement, has not officially commented on today's changes, but Asiya Sasykbaeva, one of the movement's leaders, said Atambaev is a good choice for prime minister.
"I think Atambaev's entering the [government] is not a bad step," she said. "He is a worthy, dynamic, proactive, and pragmatic figure in our country. However, I cannot tell you about a formation of a [possible coalition] executive power, so far. Today we, the For Reforms Movement, will hold a meeting to decide about our stance on that."
Legacy Of The 'People's Revolution'
For those hoping to see democracy take hold in Central Asia, the difficulties Kyrgyzstan is experiencing are a bad sign. Neighboring governments did not support Kyrgyzstan's 2005 so-called People's Revolution that ousted long-time President Askar Akaev. The unspoken fear in countries like Kazakhstan and Uzbekistan at the time was that the revolution in Kyrgyzstan could foment the idea that overthrowing entrenched leaders is a path to a better life.
However, Kyrgyzstan has seen a series of political crises over the last two years, and protesters have come out on several occasions to demand greater change from the government.
Kyrgyzstan's fragile political situation also sparks regional security concerns. The government is currently unable to devote much attention to the growing influence of Islamic extremist groups in the country's south. This has direct implications for neighboring Tajikistan and Uzbekistan.
It also has implications for Washington and Moscow. Kyrgyzstan is the only country in Central Asia where the United States and Russia each have military bases designated for counterterrorism operations.
(Tynchtykbek Tchoroev of the RFE/RL's Kyrgyz Service contributed to this report.)
Understanding Kyrgyzstan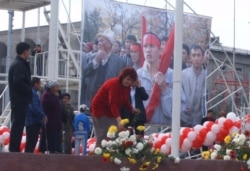 Workers preparing for celebrations of the constitutional compromise in Bishkek on November 9 (RFE/RL)


A STABLE FOUNDATION? On November 9, RFE/RL's Washington office hosted a briefing featuring RFE/RL Kyrgyz Service Director Tyntchtykbek Tchoroev and RFE/RL analyst Daniel Kimmage.
LISTEN
Listen to the complete discussion (about 80 minutes):

Real Audio
Windows Media
RELATED ARTICLES
Parliament Adopts Constitution Curtailing Presidential Powers
Crisis Deepens After President Proposes Constitutional Changes
Bishkek Prepares For Large Opposition Rally