President Kurmanbek Bakiev accepted Isabekov's resignation and has appointed opposition politician Almaz Atambaev as acting prime minister.
Atambaev is a leader of the Social Democratic Party and a member of the new United Kyrgyzstan opposition movement.
Atambaev must now form a government and win approval from parliament.
In remarks to RFE/RL's Kyrgyz Service, former Foreign Minister Roza Otunbaeva, a member of the same movement, welcomed Atambaev's appointment.
"Atambaev is a compromise figure and a representative of the [Kyrgyz] opposition," she said. "I believe that he will try to resolve all the major issues on our agenda. Right now, we say that the main thing is to establish a coalition government while, at the same time, carrying out constitutional reforms."
But two other opposition movements, For Reforms and the United Front For a Worthy Future For Kyrgyzstan, said they would not participate in a coalition government.

Isabekov, who had only been prime minister since January, said he resigned for the sake of political stability. His office released a statement saying authorities need to prevent "mass disturbances and disorder."
Isabekov's resignation came a day after he tried to fire five ministers but was blocked from doing so by Bakiev.
At the time, the president said government members should remain in their posts until an agreement is reached on the formation of a coalition government.
(with material from agency reports)
Understanding Kyrgyzstan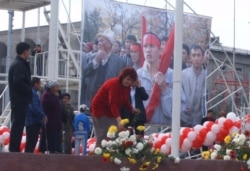 Workers preparing for celebrations of the constitutional compromise in Bishkek on November 9 (RFE/RL)


A STABLE FOUNDATION? On November 9, RFE/RL's Washington office hosted a briefing featuring RFE/RL Kyrgyz Service Director Tyntchtykbek Tchoroev and RFE/RL analyst Daniel Kimmage.
LISTEN
Listen to the complete discussion (about 80 minutes):

Real Audio
Windows Media
RELATED ARTICLES
Parliament Adopts Constitution Curtailing Presidential Powers
Crisis Deepens After President Proposes Constitutional Changes
Bishkek Prepares For Large Opposition Rally