While some are marking the date by praising improved freedoms in the country, others have been critical of the current government.
In Osh region, protesters today rallied to criticize the government for failing to implement promised reforms.
In the capital, Bishkek, President Kurmanbek Bakiev today told a crowd of people that there won't be any further turmoil in the country.
"There will be no coups," Bakiev said. "Kyrgyzstan has legitimate authorities; it has laws. The people have strong desire for stability. As the president, I will do everything necessary to preserve this stability and to preserve civic unity."
Two years ago, thousands of protesters stormed government building in Bishkek as police stood by and watched. By then, Akaev had left the country.
Protests had begun a month earlier -- initially against elections that many felt were rigged to put Akaev loyalists into parliament. Later they grew into general anti-Akaev rallies.
Understanding Kyrgyzstan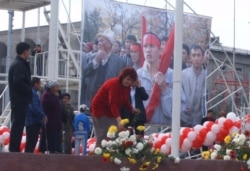 Workers preparing for celebrations of the constitutional compromise in Bishkek on November 9 (RFE/RL)


A STABLE FOUNDATION? On November 9, RFE/RL's Washington office hosted a briefing featuring RFE/RL Kyrgyz Service Director Tyntchtykbek Tchoroev and RFE/RL analyst Daniel Kimmage.
LISTEN
Listen to the complete discussion (about 80 minutes):

Real Audio
Windows Media
RELATED ARTICLES
Parliament Adopts Constitution Curtailing Presidential Powers
Crisis Deepens After President Proposes Constitutional Changes
Bishkek Prepares For Large Opposition Rally