Kyrgyzstan: Economic Reforms Seem Stalled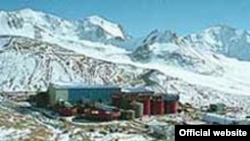 The Kumtor gold mine (official site) Frustrations caused by poverty, unemployment, corruption, and nepotism were major driving factors behind last year's so-called Tulip Revolution in Kyrgyzstan. However, the postrevolutionary government seems to have failed to implement economic reforms and the country's business and investment climate has worsened. Local entrepreneurs still complain of bribery, bureaucracy, and an ineffective tax system, while foreign investors worry about political instability.
PRAGUE, 25 May 2006 (RFE/RL) -- Experts say overall economic growth has slowed down since March 2005's regime change in Kyrgyzstan.
The country's economy demonstrated only 1.4 percent growth in 2005, a significant fall from the officially reported 7.5 percent a year earlier.
"Gold is a final resource and the Kyrgyz Republic really needs to start investing more broadly. And that's where you need a better framework all around."
Some Early Growth
In the first quarter of the current year, gross domestic product (GDP) grew by 2.4 percent. But experts say the increase is due to last year's low base of comparison.
Economists say a major problem for local entrepreneurs and foreign investors has been instability and the criminalization of political and economic structures.
Dafneh Ter-Sakarian, a senior analyst at the London-based Economist Intelligence Unit (EIU), tells RFE/RL that President Kurmanbek Bakiev's government failed to provide stability and implement overdue economic reforms.
"The problem is that there has not been a consistent reform program," she said. "Instead, there has been a lot of confusion with regards to ownership of assets and the treatment of foreign investors. So the government hasn't really made much progress in economic policy and this is having an impact on the economy as well."
Akaev's Holdings
The country's postrevolutionary government attempted to return assets that allegedly belonged to the ousted President Askar Akaev's family. But 14 months after the revolution, little is known about those assets or any change in their ownership. On the contrary, the general perception seems to be that Bakiev's family members and friends have been taking control of the strategic assets that used to be controlled by the Akaev family.
Omurbek Abdrahmanov, the president of Kyrgyzstan's Union of Entrepreneurs and a member of the For Reforms opposition movement, tells RFE/RL that there are many rumors and speculation about Bakiev's family members, particularly his son, Maksim, who is believed to have replacing Akaev's son, Aidar, in the country's major businesses.
"After the revolution, we talked about the property of the ex-president and his entourage a lot," he said. "Many companies were then mentioned [as having belonged to them]. But none of them were returned to the state or [formally] identified as Akaev's. Members of the new government and their entourage slowly took over property. That has caused disappointment. People even came up with a new slogan: 'Stop the Maksimization of Kyrgyzstan!'"
Georgia and Ukraine have also seen a revision of assets and redistribution of wealth after their respective "color revolutions." However, in Kyrgyzstan the government does not yet have full control over the situation in the country or the economy.
Moreover, experts say, authorities made the wrong decision regarding the most profitable economic sector -- the gold industry.
Golden Kyrgyzstan
The Kumtor gold mine, developed by the Kyrgyz-Canadian joint venture Kumtor Gold, has driven the national economy since the country acquired independence in 1991. It remains the mainstay, reportedly accounting for 10 percent of GDP. But Kumtor's capacity has been diminishing rapidly and gold reserves are expected to run out in a few years.
Production in the mining industry went down 13.6 percent in the first quarter of 2006.
Government officials had planned to develop other mines, namely at Jerooy and Taldy-Bulak.
But in late 2005, the Bakiev government revoked a license for the British Oxus Gold company to develop Jerooy, saying the contract signed by the Akaev government failed to meet Kyrgyzstan's national interests.
Production was suspended after the government gave the contract for Jerooy to an Austrian company, Global Gold, which plans to start production later this year. Oxus is attempting to reacquire the contract in court.
Ter-Sakarian calls this a "prime example of the mismanagement" by the new Kyrgyz government. She says it sent a negative signal to potential investors.
"One investor has been kicked out," she said. "So I don't think that many investors will be attracted. Obviously, gold prices are very high at the moment, so that's not as much of a problem. But gold is a final resource and the Kyrgyz Republic really needs to start investing more broadly. And that's where you need a better framework all around."
Black Gold
Another important sector of the economy -- the coal industry -- partly remained outside the government's control for over a year after the ousting of Akaev.
Last June, Nurlan Motuev -- the head of the radical Joomart political group -- and his supporters took over Beshsary, the largest mine in the Kara-Keche coal basin, which reportedly accounts for 30 percent of the country's coal production. Motuev established himself as Beshsary's director and demanded control over all five Kara-Keche mines, threatening to withhold coal supplies from the capital, Bishkek, during the winter.
Motuev was arrested on May 23 on charges including taking over state property and tax evasion. Observers note that the arrest came after the murder of the alleged crime boss Rysbek Akmatbaev, who allegedly supported Motuev. Akmatbaev was assassinated on May 10 near Bishkek.
It is events like these that make the business environment unfavorable for investors and the creation of jobs. And that is in a country where unemployment was one of the main factors behind Akaev's ouster. According to the International Monetary Fund, official unemployment is more than 10 percent of the workforce, though the actual number of jobless is thought to be much higher.
Local entrepreneurs and foreign investors are also turned off by the endemic bribery and bureaucracy that is common for the region.
Abdrahmanov says the government fails to address the issues adequately.
"So far our government has been using Soviet methods to fight corruption," he commented. "They publicly accuse some official [of bribery], punish him, and send one or two to prison. But it is the system itself that is corrupt. As in Soviet times, there are too many government officials who control the economy. These numerous officials don't get a normal salary, therefore they come up with new regulations, thus forcing entrepreneurs to bribe them."
The EIU report predicts a further deterioration of Kyrgyzstan's economy amid the government's inability to reassert control over the country, to create jobs, or to raise living standards.
RFE/RL Central Asia Report

SUBSCRIBE For regular news and analysis on all five Central Asian countries by e-mail,
subscribe to "RFE/RL Central Asia Report."