Erkindik (Freedom) party leader Topchubek Turgunaliev told RFE/RL today that about 12 parties and several nongovernmental organizations have joined the For Political Stability and Unity Movement.
Turgunaliev criticized President Kurmanbek Bakiev for shortcomings and called for reforms. But he rejected appeals for early presidential elections, as have been called by the opposition United Front for a Worthy Future for Kyrgyzstan.
"If the president makes some decisive steps in the coming days, then the absolute majority of people won't support activists from the [United Front for a Worthy Future for Kyrgyzstan]," Turgunaliev said. "The main concern is to safeguard Kyrgyzstan from a civil confrontation now."
Turgunaliev said the bloc will organize a meeting with officials and opposition leaders on March 29 to try to find a solution to the current political dispute.
Meanwhile, a leader of the opposition For Reforms movement, Asiya Sasykbayeva, tells RFE/RL that the bloc would join the United Front in mass rallies next month if Bakiev fails to undertake key reforms.
Understanding Kyrgyzstan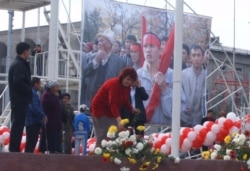 Workers preparing for celebrations of the constitutional compromise in Bishkek on November 9 (RFE/RL)


A STABLE FOUNDATION? On November 9, RFE/RL's Washington office hosted a briefing featuring RFE/RL Kyrgyz Service Director Tyntchtykbek Tchoroev and RFE/RL analyst Daniel Kimmage.
LISTEN
Listen to the complete discussion (about 80 minutes):

Real Audio
Windows Media
RELATED ARTICLES
Parliament Adopts Constitution Curtailing Presidential Powers
Crisis Deepens After President Proposes Constitutional Changes
Bishkek Prepares For Large Opposition Rally