Now, Tbilisi is seeking the backing of the international community to establish a pro-Georgian interim administration in South Ossetia in a bid to sideline the de facto administration of Eduard Kokoity, the republican president whom Tbilisi regards as a Russian puppet.

Frozen Approach
Meanwhile, the EU was scheduled on March 27 to discuss a new plan that advocates diverging approaches to expediting a solution to the frozen conflicts in both South Ossetia and Abkhazia.

Under former President Eduard Shevardnadze, the Georgian leadership concentrated its energy on seeking, first through Russian mediation and then with the assistance of the so-called Friends of the UN Secretary-General group of countries (France, Germany, the United Kingdom, the United States, and Russia) a solution of the Abkhaz conflict that would enable the estimated 200,000 or more Georgians who fled the region during the 1992-93 fighting to return to their homes.

The conflict with South Ossetia, by contrast, was kept on the back burner. After the Rose Revolution in November 2003 and the ouster six months later of Aslan Abashidze, the autocratic ruler of Ajara, however, Tbilisi began focusing in earnest on South Ossetia.

An attempt in the summer of 2004 to bring the region back under Tbilisi's control by force of arms backfired badly, costing the lives of several dozen Georgian Interior Ministry troops and precipitating the dismissal of Interior Minister Irakli Okruashvili, himself a native of the South Ossetian capital, Tskhinvali.

Addressing the UN General Assembly on September 21, 2004, just weeks after the botched Georgian military intervention, President Mikheil Saakashvili outlined a three-stage plan for resolving the twin conflicts in Abkhazia and South Ossetia.


That plan entailed confidence-building measures; the demilitarization of the conflict zones -- to be followed by OSCE monitoring of the Roki tunnel linking South Ossetia and Russia, and the deployment of UN observers along the border between Abkhazia and Russia; and the granting to the two regions of "the fullest and broadest form of autonomy." This, according to Saakashvili, would protect the Abkhaz and Ossetian languages and cultures, and guarantee self governance, fiscal control, and "meaningful representation and power-sharing" at the national level. Both unrecognized republics rejected that offer out of hand.
Four months later, in January 2005, Saakashvili unveiled a revised and expanded peace plan for South Ossetia during an address to the Parliamentary Assembly of the Council of Europe. The full text of Saakashvili's plan was posted on his website (http://www.president.gov.ge) in late March 2005.
It comprised "a constitutional guarantee of autonomy, which includes the right to freely and directly elected local self governance - including an executive branch and a parliament for South Ossetia. South Ossetia's parliament will...control...issues such as culture, education, social policy, economic policy, public order, the organization of local self governance, and environmental protection."
South Ossetia would also, Saakashvili said, have representatives in the national government, parliament, and judiciary. He further said Tbilisi was ready to discuss with the South Ossetian leadership "innovative ideas," including free economic zones, and to permit that leadership to tailor its economic policies to local needs.
Transition Period
Saakashvili proposed a three-year transition period during which a mixed Georgian-Ossetian police force would be set up under the guidance of international organizations, and the South Ossetian military would be absorbed into the Georgian armed forces.

He appealed to the OSCE, the Council of Europe, the European Union, the United States, and Russia to support and facilitate the peace process. But Kokoity again dismissed Saakashvili's offer. Kokoity said he was ready for dialogue with Tbilisi "on equal terms," and to expand economic cooperation with Georgia, but he added that South Ossetia does not need Georgian humanitarian aid.

Saakashvili refloated the revised version of his original peace proposal at a conference in Batumi in July 2005 on conflict resolution to which Kokoity claimed he was not invited.

Then, in October 2005, Georgian Prime Minister Zurab Noghaideli outlined to the OSCE Permanent Council in Vienna yet another rewrite of Saakashvili's peace proposal.

Just how it differed from earlier drafts is not clear, but Russian Foreign Ministry spokesman Mikhail Kamynin criticized it as inferior to the proposal that Saakashvili unveiled to the UN General Assembly in September 2004.

Kokoity responded in December 2005 by floating a three-stage peace proposal of his own, which the Georgian authorities initially lauded. But efforts to convene a meeting between Kokoity and Noghaideli to discuss details failed.

Meanwhile, Georgia launched a parallel two-track campaign to have the Russian peacekeeping contingent deployed in the South Ossetian conflict zone withdrawn, and to bring U.S. and EU representatives into the ongoing talks on resolving the conflict conducted under the auspices of the Joint Control Commission (JCC).

That body comprises government representatives from Russia, Georgia, South Ossetia, and the Republic of North Ossetia, which is a subject of the Russian Federation. OSCE representatives also regularly attend JCC meetings.

Dueling Elections
No progress was registered toward resolving the conflict in 2006. In November 2006, Kokoity was reelected for a second term as de facto president with 96 percent of the vote.

The same day, however, the Georgian electorate of South Ossetia participated in a parallel ballot in which they elected their own de facto president, Dmitry Sanakoyev. Sanakoyev served as defense minister and then as prime minister for several months in 2001 under Kokoity's predecessor, Lyudvig Chibirov, but left South Ossetia for Moscow after Kokoity came to power.

The international community did not acknowledge the election of either Kokoity or Sanakoyev as legal and valid. But that did not deter Saakashvili from announcing in his annual address to parliament in mid-March that he intends to embark on "peace talks" with Sanakoyev, who has established a parallel government based in the village of Kurta.

The pro-Saakashvili Rustavi-2 television channel on March 26 quoted Saakashvili as saying he plans to set up a "temporary administrative unit" in South Ossetia that would oversee the economy and social services, help maintain law and order, and participate in talks on the region's future status within Georgia.

If those talks reach a conclusion, Saakashvili continued, "real elections" will be held throughout South Ossetia. He added that within days, the Georgian government will ask parliament to draft the appropriate legislation on the temporary government.

In an interview published on March 26 in "The Georgian Times," Sanakoyev outlined his own vision of South Ossetia's future. He reaffirmed his commitment to resolving the conflict peacefully, but at the same time said Kokoity has no options other than resigning or risk being deposed.

Alternative Choice
Sanakoyev admitted that neither he nor the administration he heads is regarded as legitimate, but said he thinks that will change given that "we have managed to create an alternative to the Kokoity authorities who are leading the Ossetian people into an abyss."

He said his administration hopes for economic ties with Russia, especially neighboring North Ossetia, and that "we are going to develop our economy on the basis of raw materials" in light of the region's untapped hydroelectric capacity.

In one key respect, however, Sanakoyev's plans appear to diverge from, and go far beyond, what Tbilisi is offering: he said he wants "federal relations," which Tbilisi has consistently rejected in the case of both South Ossetia and Abkhazia. (The Georgian Constitution defines Georgia as "an independent, unified, and indivisible state.")

And, while Sanakoyev expressed "understanding" for Tbilisi's unhappiness with the JCC as a format for talks, he said he still believes that commission "has great potential for [promoting] reconciliation and disarmament."

Meanwhile in Brussels, Ambassador Peter Semneby, the EU's special representative for the South Caucasus, has overseen the drafting of a landmark 60-page blueprint for resolving both the Abkhaz and South Ossetian conflicts. That plan advocates diverging approaches to the two regions, in tacit acknowledgment of the very real differences between the leaders of South Ossetia and Abkhazia.

While the former are widely regarded by international diplomats and experts as opportunistic, entirely subservient to Moscow, and mired in dubious, possibly even criminal economic activities, the latter are seen as politically sophisticated and desperately seeking the backing of the international community to lessen their dependence on Moscow -- currently their sole ally -- and broaden their leeway in ongoing UN-mediated talks with Tbilisi.

In line with that perception, what RFE/RL's Georgian Service on March 22 dubbed the "Semneby plan" seeks to persuade the Abkhaz of the economic and social benefits of reaching an accommodation with Tbilisi.
It also envisages establishing new customs structures to put an end to smuggling across the borders of both republics and, in South Ossetia, policing the porous border with North Ossetia to preclude the shipment of Russian weaponry to the South Ossetian military, according to a March 20 analysis on euobserver.com.
South Ossetia Cease-Fire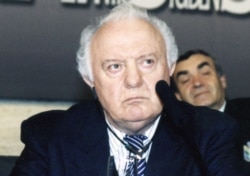 Former Georgian President Eduard Shevardnadze (RFE/RL)

'NO OTHER WAY OUT': Georgia's parliament on February 15 called upon the government to review the 1992 agreement that put an end to the war with South Ossetia and secure the withdrawal of all Russian peacekeepers stationed in the separatist republic. Officials in Tbilisi have long accused the Russian soldiers of siding with the separatist forces and posing a threat to Georgia's national security. Russia has protested the Georgian vote, arguing that Tbilisi has no right unilaterally to amend the 1992 peace agreement. Georgia, in turn, says it has the right to do so.
RFE/RL's Georgian Service correspondent Nona Mchedlishvili asked former President EDUARD SHEVARDNADZE, who signed the agreement with his then Russian counterpart, Boris Yeltsin, to comment on the dispute....(more)
See also:
Tbilisi Seeks EU Support As Tensions Rise In South Ossetia