Al-Sadr Blames U.S. For Iraq Violence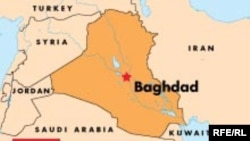 (RFE/RL) March 30, 2007 -- Radical Shi'ite cleric Muqtada al-Sadr has issued a scathing attack on the United States, blaming Washington for Iraq's troubles and calling for a mass demonstration on April 9, the fourth anniversary of the fall of Baghdad.
Al-Sadr's remarks were read in a mosque in Kufa, a Shi'ite holy city south of Baghdad.
They came after at least 181 people were killed or found dead on March 29 as Sunni insurgents apparently stepped up their campaign of bombings.
(AP)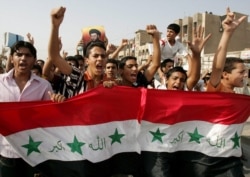 Al-Sadr supporters demonstrating against the U.S. presence in Iraq in October 2006 (epa)

A RADICAL CLERIC. Shi'ite cleric Muqtada al-Sadr is a key figure in Iraq. He heads the Imam Al-Mahdi Army militia and a political bloc that is prominent in parliament and the government. His ties to Iran have also provoked concerns in some quarters.
RELATED ARTICLES
Cracking Down On Al-Sadr No Easy Task
Political Parties Consider Uniting Against Al-Sadr
Is Al-Sadr Stirring The Pot Or Promoting Peace?
Radical Shi'ite Cleric Calls For Shi'ite-Sunni Unity
Al-Sadr Reasserts Himself -- This Time Against Coreligionists