Khamail had been missing for the past two days amid fears she had been kidnapped.
According to official sources, she was shot in the head and there were wounds on her body.
Khamail, who began working for Radio Free Iraq in 2004, had received death threats in the past. She leaves behind three daughters.
"The tragic death of Khamail [Muhsin] Khalaf reminds us that each day Radio Free Europe/Radio Liberty correspondents risk their lives in pursuit of truth," Kenneth Tomlinson, chairman of the Broadcasting Board of Governors, which oversees U.S. foreign broadcasting, said today. "Our thoughts and prayers are with her family and friends, knowing that she paid the ultimate price for fulfilling her responsibility to the people of Iraq."
RFE/RL President Jeffrey Gedmin also praised Khamail's professionalism and dedication.
"Mrs. Khamail was a courageous journalist who wanted the best for her country and believed that the people of Iraq deserve a peaceful and prosperous future. She died for that cause," Gedmin said.
Radio Free Iraq broadcasts to Iraq from its headquarters in Prague at Radio Free Europe/Radio Liberty.
'Attacks On The Press -- 2006'
'Attacks On The Press -- 2006'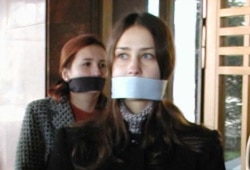 Ukrainian journalists demonstrating against censorship in December 2006 (RFE/RL)


'DOMINO EFFECT.' Two experts with the Committee to Protect Journalists told an RFE/RL-Radio Free Asia briefing on February 6 that their organization is concerned Russia's increasingly restrictive media environment is being copied by other countries in the CIS.
LISTEN
Listen to the entire briefing (about 80 minutes):

Real Audio
Windows Media
RELATED ARTICLES
New Program Finds Way Around Internet Censorship
CPJ Discusses Dangers, Obstacles Journalists Face
East: RSF Calls Iraq, Iran 'Graveyard Of Freedom'
Media Situation Worsening In Central Asia, Russia, Azerbaijan
SUBSCRIBE
For regular news and analysis on media issues throughout RFE/RL's broadcast area by e-mail,
subscribe to "RFE/RL Media Matters."