It was the second time the two met in the four days since Yushchenko dissolved parliament on April 2 and called for new elections to be held on May 27.
"The principle topic of the meeting is how to get out of the political crisis," Yushchenko's office said in a statement.
Yanukovych has refused to obey the order, calling it illegal. He and his supporters have appealed to Ukraine's Constitutional Court to rule on Yushchenko's decree.
In neighboring Russia today, the State Duma, the lower house of the Russian parliament, issued a statement condemning Yushchenko's move, calling it illegal.
Yanukovych is widely seen as pro-Russian, while Yushchenko favors closer ties with the West.
An estimated 2,000 Yanukovych supporters remained camped out in Kyiv to protest Yushchenko's dissolution of parliament. Many were bussed in to the capital from Ukraine's eastern regions where the prime minister enjoys more support than in the capital.
Yanukovych's supporters, meanwhile, said they would not hold rallies over the Easter weekend -- but would resume protests after the holiday.
"During the holiday, the supporters of the coalition will stay in their places, but won't lead political rallies," AP quoted lawmaker Taras Chornovil, a leading ally of Yanukovych's, as saying.
The standoff followed last month's defection of 11 pro-Yushchenko lawmakers to Yanukovych's governing coalition. The defections moved Yanukovych closer to a veto-proof majority in parliament, which would allow him to amend the country's constitution.
Yushchenko called the defections illegal, saying the law permits only parliamentary factions -- not individual lawmakers -- to switch sides.
(compiled from agency reports)

Ukraine And European Energy Security
Ukraine And European Energy Security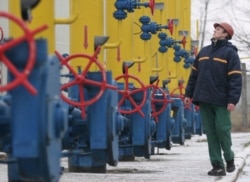 A worker inspects a gas facility outside of Kyiv (epa file photo)

MURKY CONNECTIONS. A year after the so-called gas war between Moscow and Kyiv, energy transhipments from Russia to Europe via Ukraine remain a concern. On December 1, RFE/RL's Washington office hosted a briefing featuring Tom Mayne, an energy researcher for the London-based Global Witness. Mayne discussed the lack of transparency in the energy sectors of Ukraine, Russia, and gas supplier Turkmenistan.
LISTEN
Listen to the entire briefing (about 60 minutes):

Real Audio
Windows Media
RELATED ARTICLES
Neighbors Watch As Russia Moves Toward WTO Membership
Kyiv Announces Terms Of New Russian Gas Deal
Former U.S. Ambassador Says Kyiv Can Cope With Gas Price Rise
ARCHIVE
RFE/RL's English-language coverage of
Ukraine
,
Russia
, and
Turkmenistan
.