U.S. military spokesman Major General William Caldwell said the United States has evidence that Iranian intelligence agencies have supported some Sunni extremist groups, and continue to provide them with training.
Caldwell said Iranian support to militant groups includes the creation of "explosively formed penetrators," or EFPs, a type of deadly roadside bomb that can pierce armor.
"We know [EFPs] are, in fact, being manufactured and smuggled into [Iraq], and we know that training does go on in Iran for people to learn how to assemble them and how to employ them, and we know that training has gone on as recently as this past month from detainee debriefs of some personnel that we've picked up," Caldwell said. "So, we know that is still an ongoing effort that is occurring, unfortunately."
The military displayed a large cache of explosives that it said were newly made Iranian devices found in a car in Baghdad. Tehran denies arming any Iraqi groups.
Meanwhile, Baghdad has seen some of its heaviest fighting since the start of a U.S.-led security crackdown in February.
The U.S. military said four Iraqi soldiers were killed and 16 U.S. soldiers wounded in a daylong battle on April 10 between U.S. and Iraqi forces and insurgent gunmen. Some 20 suspected militants were also reported killed and about 30 were injured.
Also Turkey has said it has the right to pursue separatist Kurdish guerrillas inside Iraq if Baghdad is not powerful enough to fight them itself.
Turkish Foreign Minister Abdullah Gul today said that "if Turkey is harmed, then its neighbors should do whatever is necessary to prevent it. If they are powerless to do so, then international laws enable" Turkish intervention.
At least 20 people have died in clashes between Turkish security forces and Kurdish rebels in the country's southeast since April 7.
(AP, AFP)
Muqtada Al-Sadr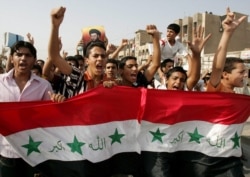 Al-Sadr supporters demonstrating against the U.S. presence in Iraq in October 2006 (epa)

A RADICAL CLERIC. Shi'ite cleric Muqtada al-Sadr is a key figure in Iraq. He heads the Imam Al-Mahdi Army militia and a political bloc that is prominent in parliament and the government. His ties to Iran have also provoked concerns in some quarters.
RELATED ARTICLES
Cracking Down On Al-Sadr No Easy Task
Political Parties Consider Uniting Against Al-Sadr
Is Al-Sadr Stirring The Pot Or Promoting Peace?
Radical Shi'ite Cleric Calls For Shi'ite-Sunni Unity
Al-Sadr Reasserts Himself -- This Time Against Coreligionists