Now the first-ever exhibition of these remarkable textiles has gone on display in a Washington, D.C. museum, and is curated by a theoretical physicist who fell in love with the art form and became an expert in his spare time.
The physicist in question, Richard Isaacson, is gazing almost lovingly at a three-meter long piece of brilliantly colored wool laid out on a table at Washington's Textile Museum.
He tells a visitor to notice the special kind of knots used to make the decorative patterns woven throughout the textile -- a Turkmen "ak yup," or tent band. It's not a rug knot, he says, but a tiny, nearly invisible knot that makes the back of the tent band almost indistinguishable from the front.
It's this kind of detail that fires Isaacson's passion for Central Asian tent bands, and which led him to put together this first-ever exhibition.
The awkward size of the massive textiles has always presented a challenge to museums, he says.
"Largely because of the complex logistics of mounting something 50 feet (17 meters) long, museums have been a little reluctant to put more than one or two of them up at a given time," Isaacson says. "But they are, I think, among the most beautiful of all the weavings that the nomads have left us in Central Asia. They wove carpets, they wove bags, and many other kinds of things, but tent bands were very special to them, they were great heirlooms, they worked perhaps three years on a single band and these were passed down from generation to generation, so we should appreciate what they appreciated as their most prized possession."
Issacson spoke to RFE/RL on the eve of the public opening of the museum's new exhibition, "Architectural Tent Bands: Textiles of Central Asia," which is expected to draw admirers from around the world.
Central To Nomadic Life
The tent band may sound like a simple piece of material, but its importance during thousands of years of nomadic life in Central Asia cannot be overstated. Indeed, the name of the exhibition -- "Architectural Tent Bands" -- suggests just how integral they were to the nomadic way of life.
Both culturally and functionally, the tent band has occupied a place of central importance for generations of Turkmeni, Kyrgyz, Uzbek, Kazakh, Karakalpak, and Mongolian nomads.
There are two kinds of tent bands -- the strictly utilitarian, and the decorative, which also serve a function when they are used, usually on special occasions. The latter are the subject of this exhibition.
Both are an integral part of the traditional trellis tent construction -- used to brace the lower part of wooden roof struts. The bands are an engineering element that provide the necessary tension to brace the yurt's 220-kilogram felt roof against the fierce winds that blow across the arid steppes of Central Asia.
Family Heirlooms
The typical band is about 30 centimeters wide by 17 meters long. It is woven -- always by women -- on a narrow, horizontal loom, and usually takes a couple of years to complete.
Finished bands would often be given to a young couple as a marriage gift, and from that day onward, become an important family heirloom passed down through successive generations.
"They didn't have to have bands. In fact, in Mongolia the tents have a piece of rope," Isaacson says. "Still, the people in Central Asia love decoration; they live in this very sparsely decorated, difficult, arid climate, and they find some way to make beauty. And they do that in this case by decorating these bands and making them something very special and an important part of their heritage."
Isaacson says the nomadic way of life, and the tradition of tent band weaving, suffered a massive blow in the Soviet era.
"It's a vanishing way of life; there is a terrible human tragedy involved under the Soviet system," he says. "Under the tsar, the culture of the handicraft industry was preserved and encouraged sufficiently, but under the Soviets, they were forced to settle and collectivize. And this was an enormous disaster. In Kazakhstan, 90 percent of the herds died and 40 percent of the people, during this process."
Despite the fact that fewer and fewer nomads exist in Central Asia, tent bands are as easy to come by as logging onto an Internet auction website. A recent check of eBay turned up seven Uzbek tent bands for sale, ranging from $16 to $50. One seller advertised: "Two Uzbek old wool Karakalpak pile tent bands for yurts" and was willing to part with both for less than $50.
For this show, Isaacson said one-third of the 40 bands on display came from the Textile Museum's own collection, and two-thirds came from private collectors in the United States and Europe. The newest band is 20 years old, and the oldest has been traced to the 17th century.
'Like Music'
Isaacson himself is as rare as the nomad way of life is becoming. By training, he is a theoretical physicist, and has spent his career working on esoteric things like colliding black holes. He says that he has always been interested in art, and sees commonalities between art and science: for example, ideas of symmetry and economy.
For the past 20 years, he's devoted his spare time to the study of textiles, and in the process, become an expert on Central Asian weavings. In any tent band, he can pick out a fertility symbol, a wedding pattern, or a woman's necklace. Some bands have no apparent symmetry at all, he says, while others have a hidden symmetry that only reveals itself with careful study.
"And these tent bands I liken to music because they're so long," he says. "And you stand in front of one piece and you see it, and then you move on, and it's like reading a bar of music, and then reading the next bar and reading the next bar -- and unless your memory is very good, after 50 bars you've forgotten the beginning. And so you don't often see the organization and structure of the band. But when the band is up, as we have in one of the education rooms, and you were to fold it in half, you'd see that often the band is organized around a mirror reflection of the very center of the band. So, like music, we start out slowly and build a crescendo and then at the very center there's a very grand flourishing design, and then we start a decrescendo and go back and end very quietly."
The catalogue he has produced for the show, he insists humbly, is far from the last word on Central Asian tent bands. It is, he says, only the first. He expects textile experts to join the debate over the origins and designs of the weavings.
"Well, this is a subject that has remained in mystery and there has not been a catalogue devoted completely to tent bands ever done before," Isaacson says. "And sometimes tent bands are included in exhibitions and there's some kind of a story -- and this may be family lore, it may be accurate, there's no way of calibrating the information. And I think it takes a systematic study of looking at many similar things to try and understand the principles that are involved."
As of now, not many people are conducting the systematic study Isaacson refers to, but if the Washington D.C. exhibition proves as popular as the museum expects it will, this gentle scientist may well have launched a new field of study in the textile world.
Bohemian Yurt Maker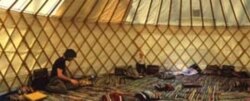 CENTRAL EUROPE MEETS CENTRAL ASIA: Few urbanites in Bishkek or Ulan-Bator would trade their warm apartments to live in a yurt. But in Europe, some have become bored with city life and are seeking a bohemian lifestyle. One Czech artisan is carving out a niche in a growing market with his own renditions of the traditional Central Asian dwelling.


WATCH
View a short RFE/RL video presentation (about 90 seconds).
Real Video