Appearing twice yearly, "Steppe" contains high-quality photographs, text on the broadest range of cultural topics, and advertising.
Kelaart is something of an adventurer. She spent almost a year riding through Central Asia by horse and camel, an experience that has left her with detailed knowledge of the region, and deep affection for it.
Now she has turned her hand to magazine publishing, which can also be seen as an adventure given the difficulty of establishing a new title on the market.
High Gloss
In a critique by Bishkek-based writer Daniel Sershen, appearing on Eurasianet, "Steppe" is described as being in equal parts a coffee-table book, a museum catalogue, and an in-flight magazine. It should be available twice yearly, in April and October.
"I went to Central Asia about seven years ago for the first time, traveling on a horse, and fell in love with the area," Kelaart describes the origins of the project. "But [I] realized I knew nothing about it, so I decided to return afterwards, [and meanwhile] I did a quick degree at the [School of Oriental and African Studies in London, or SOAS) in the history of Central Asia, and I went back to Kazakhstan to learn Russian. And that's how I ended up realizing that [the region] needed better marketing. It's quite hard for a layperson -- not for an academic but for a layperson -- to find interesting information about Central Asia."
The first issue was put together on a "shoestring" budget, but financial stress was eased when two energy companies came forward with financial support. They are oil company Shell and the Kazakh oil company Karazhanbasmunai.
Kelaart says, however, that "Steppe" will retain its editorial independence.
Meeting Of Minds
She says the market for such a magazine is broad, and consists of travelers, businesspeople, history buffs, and people around the world interested in culture even if they never visit Central Asia.
Contributors to "Steppe" include historian Hugh Pope and some well-known British travel writers, like Jason Elliott and Colin Thubron.
"What we are doing already from issue two is to try to get more people from Central Asia to write [for us], so that the magazine is more balanced," Kelaart says.
The stunning photographs in the first issue are contributed by Central Asian photographers.
Politics and economics will not find much space in "Steppe." Kelaart says those themes are already handled by various media, and that she wants her publication to stick largely to culture.
Slippery Slope
But some decisions inevitably have political undertones, like it or not. For instance, "Steppe"'s inclusion of the western Chinese autonomous region of Xinjiang within its geographical definition of Central Asia could rile the Chinese government.
Xinjiang is the home of China's Muslim Uyghur minority, and is the scene of Chinese attempts to suppress the Uyghur East Turkestan separatist movement. Kelaart explains the decision.
"It's difficult to assess exactly what comprises Central Asia; everyone has their own interpretation," Kelaart says. "But we have included it because it was known as Chinese Turkestan, and the Uyghurs are ethnically so similar to Uzbeks, for example. And we feel it's another part of the world which people know little about, and it fits so well geographically [into Central Asia]."
Asked whether "Steppe" expects any difficulty in obtaining material from Xinjiang highlighting Uyghur culture and history, she says that, so far, the question has not really arisen, but that she's not expecting any trouble.
Afghanistan is also included within the magazine's area of coverage.
One thing is sure, according to Kelaart: She says the magazine will never run short of material to publish, considering the depth of Central Asian culture and history to cover.
"Steppe" is available by subscription (http://www.steppemagazine.com/) and distributed increasingly at bookstores and hotel shops in Central Asia.
Central Asian Cinema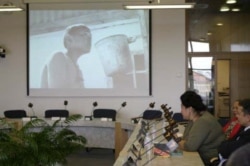 Gulnara Abikaeyeva's June 29 presentation in Prague (RFE/RL)
EAST OF THE WEST:
On June 29, RFE/RL's Prague broadcasting center hosted a presentation by
GULNARA ABIKEYEVA
, director of the Central Asian Cinematography Center in Almaty, Kazakhstan. Abikeyeva is a leading expert on Kazakh and Central Asian cinema, a chairwoman of the jury of this year's East Of The West section of the Karlovy Vary film festival. Abikaeyeva gave an overview of major trends in Central Asian cinema since the 1960s. Abikeyeva has just completed a major DVD collection of the most popular films of the five Central Asian countries and is now beginning work on a similar collection of Central Asian documentaries.
LISTEN
Listen to the complete presentation (45 minutes):

Real Audio
Windows Media
Other Articles On Central Asian Culture:
Silk Road Revival Grows As More Sites Protected
Central Asian Directors Discuss Issues Behind The Camera
Ancient European Music Meets Central Asian Masters
Central Asian Masters Revive Old Ways Of Teaching Traditional Music
ARCHIVE
To view an archive of RFE/RL's reporting on culture throughout its broadcast area, click here.


THE COMPLETE STORY: Click on the icon to view a dedicated webpage bringing together all of RFE/RL's coverage of Kazakhstan, Kyrgyzstan, Tajikistan, Turkmenistan, and Uzbekistan.