PRAGUE, June 26, 2006 (RFE/RL) -- In Turkmenistan, the archeological treasures of Merv, a city by some estimates believed to be the world's most populous in the mid-12th century, are safe.
So, too, is the Islamic architecture of Bukhara and Samarkand in Uzbekistan.
These are some of the riches of the Silk Road that are already protected by their inclusion in UNESCO's World Heritage List -- a grouping of hundreds of sites that are officially recognized for their cultural importance.
Saving History From Extinction
But for each Silk Road site on the list, there are others that are conspicuously absent.
"There are also a number of sites which were not yet ready to go onto the World Heritage List because of their [poor] state of conservation, says UNESCO World Heritage Center representative Francis Childe. "Cities, for example, like Otrar, an extraordinary archeological site in south Kazakhstan; Krasnaya Rechka in Kyrgyzstan in the Chui Valley. These sites were very badly neglected in Soviet times."
Childe and his colleagues have been working for nearly a decade on these and other sites to save them from decay and bring them up to the physical condition necessary for nomination to the World Heritage List.
The efforts are supported by funding from Norway, Italy, Switzerland, and especially Japan, which has contributed several million dollars to conservation projects in Central Asia. Additionally, Turkey has sponsored a number of projects, contributing funds directly to the region's governments.
In the future, Childe hopes to also receive monetary support from the wealthy Persian Gulf states, which he would like to channel to places like Afghanistan, where the need is particularly acute.
"A part of what we have been doing is to conserve these sites which were excavated in late Soviet times, were then opened to the elements, [and were] in danger of disappearing completely and totally from the face of the earth within the next 10 or 15 years [due to decay]," Childe says.
International Expertise
Often, the actual work of physically restoring damaged buildings is as international as the sources of funding. Conservation experts from Europe and the United States are brought in to work with local specialists and craftsmen, teaching them the skills necessary to preserve and restore the sites.
As a result, cities such as Otrar may soon be receiving the World Heritage List status that they deserve.
Childe says that UNESCO representatives and regional officials will meet in Samarkand from October 9 to 14 to prepare the official nomination of many new sites.
"The member states themselves -- the Tajiks, the Kazakhs, the Kyrgyz, and so on -- will come to an agreement on which sites they wish to identify from their country, see what needs to be done in terms of their conservation and their nomination, in order that we might present a kind of a global Silk Road nomination for all of the Silk Road sites or at least for a series of Silk Road sites from Central Asia, perhaps some time as early as 2008," Childe says.
Rediscovering Historical Identities
But aside from their architectural and archeological value, the Silk Road sites also represent a chance for the people of Central Asia to rediscover their identities.
This, Childe says, proves that preservation of the Silk Road does not only mean respecting the past, but also means looking toward the future of Central Asia.
"In Central Asia in Soviet times, the ethic groupings, if you will, of most of the Central Asian states basically lost their historical identity," he notes. "They were as much as told, "you weren't developed until the USSR was formed, you were nomads, you had no archeological sites, you had no history," and so on -- which simply wasn't true.
"So in part, the restoration and conservation of these great archeological sites is a way to give back the Kazakhs their own history, to give back the Kyrgyz their own history, to give back the Tajiks their own history and their own cultural identity," Childe says.
Economic Benefits
The Silk Road countries could also derive substantial economic benefits from the rediscovery of their cultural legacies. Inclusion on the World Heritage List is likely to translate into a sizeable boost in tourism.
According to Childe, the city of Otrar had approximately 8,000 or 9,000 visitors per year before his team began work on the site. Today, he estimates that figure to have risen to 100,000 visitors per year -- a number which should only increase if Otrar gains list status.
And the Silk Road, which for so long provided a stage for intercultural exchange, may be able to re-adopt this function as well.
"These [sites] can eventually become motors for local economic development, but also [can act as] an exchange of experience between peoples," Childe says.
"The Central Asian ex-Soviet republics remained completely isolated and cut off for more than a hundred years, and now that they're opening up again, they're as interested to see people coming from America and from Japan and from Australia as the people in those countries are to go and actually visit them," he adds. "So there's an economic potential there, but there's also a real potential for genuine human understanding and interchange."
Childe's UNESCO team is presently working on some 12 sites across Central Asia and in China, with a budget of some $7 million.
Saving Afghanistan's Heritage
Saving Afghanistan's Heritage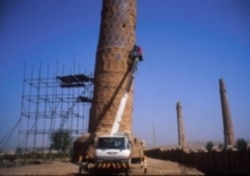 A UNESCO team working to stabilize Herat minarets in 2003 (UNESCO)

THE MINARETS OF HERAT: In Afghanistan's leafy western city of Herat, a two-lane road slices between the city's five remaining 15th-century minarets. Every truck, car, bus, motorcycle, and horse-drawn carriage that passes by sends vibrations coursing through the delicate structures.
In particular, the Fifth Minaret -- all 55 meters of it -- seems ready to collapse into a dusty heap of bricks and colored tiles at any moment. A large crack near its base makes drivers speed up just a little as they pass by....(more)



Click on the image to view an audio slideshow of this story by RFE/RL correspondent Grant Podelco.



RELATED ARTICLES
Afghanistan Protects Storied Bactrian Treasure
Archeologist Hunts For Third Bamiyan Buddha
Musicians Struggling To Revive Classical Heritage After Taliban
ARCHIVE
To view RFE/RL's complete coverage of Afghanistan,
click here
.

SUBSCRIBE
For weekly news and analysis on Afghanistan by e-mail, subscribe to "RFE/RL Afghanistan Report."