Former Macedonian Minister Faces War Crimes Tribunal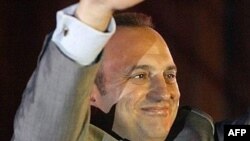 Ljube Boskovski in 2004 (AFP) April 16, 2007 (RFE/RL) -- The war crimes trial of former Macedonian Interior Minister Ljube Boskovski, who is accused over an attack on ethnic Albanians in 2001, started today in The Hague.
Boskovski and a former senior Macedonian police official, Johan Tarculovski, face charges of murder, wanton destruction, and cruel treatment in connection with the deaths of seven men and the mistreatment of others in the village of Ljuboten during the 2001 conflict between Macedonian forces and ethnic-Albanian rebels.
RFE/RL Macedonia analyst Nakev Ljupco says this case is a landmark for the UN tribunal, which was established to prosecute genocide, war crimes, and crimes against humanity committed in the ex-Yugoslav territory.
"These are the first Macedonians to stand trial before the International Criminal Court for the former Yugoslavia," Ljupco says.
Ljupco notes that the UN tribunal has gradually extended its justice across the various republics and regions which once made up the Yugoslav federation.
"[The] court has prosecuted crimes in Serbia, Croatia, Bosnia[-Herzegovina], and Kosovo and now this [Macedonia] is the last of the ex-Yugoslav republics to have a case before The Hague tribunal," he says.
The Macedonian attack in question came in apparent retaliation for a deadly strike on Macedonian forces by ethnic-Albanian guerrillas in the area a day earlier.
Boskovski and Tarculovski could face a maximum sentence of life in prison if convicted of all charges. They have pleaded not guilty.
(with material from Reuters)


SUBSCRIBE
For a regular review of politics, media, and RFE/RL broadcasts in the western Balkans,
subscribe to "RFE/RL Balkan Report."