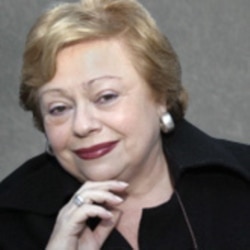 STATE MEDIA QUIET ON APRIL'S DISSENT RALLIES
By Maria Klein, director, RFE/RL Russian Service
If you watched Russian television, it was as though the rallies hadn't taken place.
On Saturday evening (April 14), following the Moscow protest, the main channels had literally no coverage. By Sunday (April 15), the television networks showed very brief footage from the March of Dissent rallies, but it was impossible to get an accurate sense of their size or even the message of the protesters.
Actually, they did report about rallies -- but not the March of Dissent rallies. Instead, they reported that 15,000 pro-Kremlin young people had gathered near Moscow State University. These demonstrators were brought in on trains and planes -- many of them didn't even know what they were doing there. But the television programs I saw simply stressed how wonderful it was that so many of them had converged on Moscow.
These programs also featured claims that the United States was meddling in Russia's internal affairs. One such report focused on how the United States was financing nongovernmental organizations in Russia, and how that funding was part of a U.S. plan to influence the outcome of the upcoming parliamentary and presidential elections.
The commentators discussed how much money they believed the United States had spent funding "colored revolutions" in the former Soviet Union. News programs also featured exiled Russian tycoon Boris Berezovsky's interview in "The Guardian," in which he talked about removing the current regime using "undemocratic" means.
And what figured most prominently was coverage of a martial-arts and wrestling event in St. Petersburg, which President Putin had attended. The competition, which featured no-rules wrestling, pitted Russians against Americans. These strong, massively built men were shown on television telling the president that they had fought the American team and won. They were proud, they said, and Russia was a force to be reckoned with.
That's the message you get from Russian television news today -- from Putin's speech in Munich to these wrestlers in St. Petersburg. Russia is a force to be reckoned with.


UPDATED CONSTANTLY: Visit RFE/RL's Russian-language website, featuring news, analysis, features, streaming audio, and more, in Russian, from RFE/RL's Russian Service.
ARCHIVE
RFE/RL's English-language
coverage of Russia
.