Ukraine Court Begins Hearings On Presidential Decree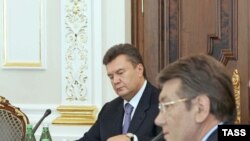 Yushchenko (right) with Yanukovych at a meeting in July 2006 (ITAR-TASS) April 17, 2007 -- Ukraine's Constitutional Court has opened hearings to determine whether President Viktor Yushchenko's decree to dissolve parliament and call early elections is legal.
Yushchenko's rival, Prime Minister Viktor Yanukovych, and Yanukovych's majority in parliament have so far refused to accept Yushchenko's April 2 decree or to approve funds to allow electoral authorities to begin preparing for the vote planned for May 27.
Yushchenko on April 16 said he expected authorities to implement his decree, but indicated he was willing to negotiate over the date of the elections.
The president and prime minister are expected today to make separate visits to Western Europe to discuss the situation.
Yushchenko is expected to visit Brussels, Belgium, to discuss the situation with European Union officials, while Yanukovych is expected to address the Council of Europe's Parliamentary Assembly in Strasbourg, France.
(compiled from agency reports)