Nicholas Burns, the U.S. State Department's third-highest-ranking official, told a U.S. House of Representatives committee today that Washington believes that supervised independence for Kosovo is now the only way forward.
Burns, who holds the position of undersecretary of state, said failure to approve an independence proposal for Kosovo would "strengthen the hand of extremists and lead directly to new conflicts."
He said the predominantly Muslim population of the UN-administered Serbian province "will never accept continued rule by Serbia."
Burns defended a proposal by UN special envoy Martti Ahtissari for the independence of Kosovo, subject to a period of international supervision. The former Finnish president presented his proposals to the UN Security Council two weeks ago.
In other news, an investigation has concluded that Romanian police officers were
responsible for two deaths of ethnic Albanian protesters on February 10
in Kosovo's capital, Pristina.
The victims were demonstrating against a UN plan on the future of
the disputed province.
Romanians serving with the UN police force
left Kosovo last month despite a UN investigation into their role in
the riot in which the two protesters were killed.
(AFP, AP)
Final Status For Kosovo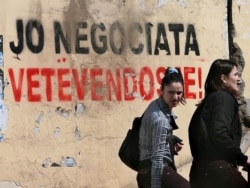 Pro-independence graffiti in Prishtina (epa)

FINALLY STATUS? Sabine Freizer, director of the Crisis Group's Europe Program, told an RFE/RL briefing that deep divisions in the UN Security Council make it uncertain what form Kosovo's future status might take.
LISTEN
Listen to the entire briefing (about 70 minutes):

Real Audio
Windows Media
ARCHIVE
RFE/RL's coverage of
Kosovo
. The website of
RFE/RL's South Slavic and Albanian Language Service
.