"Today, as the governor of Maysan Province and the Iraq security forces
take on responsibility for the security of its people, we are
demonstrating, once again, that the enemies of peace and democracy will
not succeed," the commander of British forces in Iraq, Major General Jonathan Shaw, said at the handover ceremony.
It is the fourth of Iraq's 18 provinces to be handed over to Iraqi command.
In a speech, read out at the ceremony, Prime Minister Nuri al-Maliki said Iraq plans to take security control of all its provinces from foreign forces before the end of the year.
In other news, at least 16 people were reported killed and 33 wounded in separate attacks today in the Iraqi capital, Baghdad.
Also, the U.S. military says its troops killed five Iraqis and detained some
30 others today during a raid in near the town of Karmah in Iraq's
western Al-Anbar Governorate.
(compiled from agency reports)
Muqtada Al-Sadr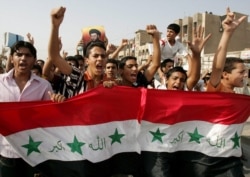 Al-Sadr supporters demonstrating against the U.S. presence in Iraq in October 2006 (epa)

A RADICAL CLERIC. Shi'ite cleric Muqtada al-Sadr is a key figure in Iraq. He heads the Imam Al-Mahdi Army militia and a political bloc that is prominent in parliament and the government. His ties to Iran have also provoked concerns in some quarters.
RELATED ARTICLES
Cracking Down On Al-Sadr No Easy Task
Political Parties Consider Uniting Against Al-Sadr
Is Al-Sadr Stirring The Pot Or Promoting Peace?
Radical Shi'ite Cleric Calls For Shi'ite-Sunni Unity
Al-Sadr Reasserts Himself -- This Time Against Coreligionists