The deadliest and most recent bombing struck Baghdad's mainly Shi'ite Al-Sadriyah neighborhood, killing at least 115 people and wounding at least 110 others.
Several bombings struck in different neighborhoods within the span of a few hours. In the mainly Shi'ite Sadr City neighborhood, a bomber drove his explosives-laden car into an Iraqi police checkpoint.
The apparently coordinated attacks occurred hours after Shi'ite Prime Minister Nuri al-Maliki said Iraq would take security control of the whole country from foreign forces by the end of the year.
Meanwhile, U.S. Defense Secretary Robert Gates today warned that chaos in Iraq would create instability throughout the Middle East.
Speaking during a visit to Cairo, Gates called on Arab countries to use their influence to promote stability and reconciliation in Iraq, or risk the regional consequences of a "failed state."
"We encourage Iraq's Arab neighbors to use their influence to dampen homegrown insurgency and alleviate sectarian conflict," Gates said. "Other nations who have not been good neighbors of Iraq, such as Syria and Iran, should start becoming a part of a regional solution that encourages political reconciliation and reduces violence."
(compiled from agency reports)
Muqtada Al-Sadr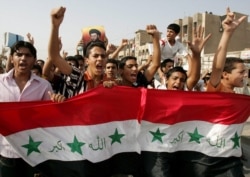 Al-Sadr supporters demonstrating against the U.S. presence in Iraq in October 2006 (epa)

A RADICAL CLERIC. Shi'ite cleric Muqtada al-Sadr is a key figure in Iraq. He heads the Imam Al-Mahdi Army militia and a political bloc that is prominent in parliament and the government. His ties to Iran have also provoked concerns in some quarters.
RELATED ARTICLES
Cracking Down On Al-Sadr No Easy Task
Political Parties Consider Uniting Against Al-Sadr
Is Al-Sadr Stirring The Pot Or Promoting Peace?
Radical Shi'ite Cleric Calls For Shi'ite-Sunni Unity
Al-Sadr Reasserts Himself -- This Time Against Coreligionists