The strategy was first floated by Germany less than a year ago. German Foreign Minister Frank-Walter Steinmeier, speaking for the current holder of the EU Presidency, said after today's "orientation debate" that the road should now be clear for the strategy's adoption by EU heads of state and government in June.
"We have today talked about the most important building blocks [of the strategy] that we can still add to it in the coming weeks," Steinmeier added.
Senior EU officials discussed the plans with their counterparts from the five Central Asian countries in the Kazakh capital, Astana, in late March.
More 'Coherent' Strategy
Speaking today just before the start of the EU foreign ministers' meeting in Luxembourg, the bloc's external relations commissioner Benita Ferrero-Waldner said the Central Asian strategy will build on a mutually recognized need to build closer ties.
"I think these countries have a strong interest in Europe and we have to engage with them and use this interest to also bring them closer to Europe." -- Ferrero-Waldner
In March, "there was a great interest from the Central Asian countries to strengthen relations with us, with the European Union, and it is also in our interest that we strengthen our relationship" with Central Asia, she said.
Ferrero-Waldner said the EU is seeking to give greater coherence to its Central Asian policy and better coordinate its cooperation programs with the countries.
Central Asia's huge gas and oil reserves are making the region increasingly more attractive to the EU as relations with Russia -- Europe's leading external energy supplier so far -- have cooled.
Addressing Rights
But Ferrero-Waldner today also highlighted the EU's interest in helping the Central Asian countries to develop their economies, better protect their environment, and improve their security and stability.
The EU also insists that democratization, the rule of law, and respect for human rights remain high on its agenda.
Ferrero-Waldner today repeated recent EU praise for Uzbekistan for having agreed to two rounds of expert talks on the events in the eastern city of Andijon in 2005. Tashkent has so far refused to allow an international inquiry into the deaths of the hundreds of civilians who were killed by government troops in Andijon.
Ferrero-Waldner also lauded what she said is the Uzbek government's acquiescence to launch a regular human rights dialogue with the EU "in the very near future" that she said, "will be very important because it is the first time ever such a human rights dialogue takes place."
...But Is It Enough?
However, sources in Brussels have told RFE/RL that some EU member states feel praise for Uzbekistan is premature. The expert talks on Andijon are said to have been limited to presentations of Tashkent's version of the events. The human rights dialogue will only convene once a year and involve low-level officials.
There have been suggestions the EU's German presidency could use both as a pretext for easing the sanctions against Uzbekistan imposed in the wake of Andijon. Selected officials linked to Andijon are under an EU visa ban and there is an arms embargo.
Uzbekistan is Central Asia's most populous country, and also has significant gas, oil, and uranium reserves. It's approval is crucial for the EU's Central Asian strategy.
Similarly, Kazakhstan, the largest country in the region and also rich in energy sources, has been placated by EU support for its bid to chair the Organization for Cooperation and Security in Europe (OSCE) in 2009.
Responding to a question posed by RFE/RL, Ferrero-Waldner appeared to confirm that the EU sees "engagement" with the region as vital -- for fear of losing it to other suitors.
"I think it is highly important to engage with Central Asia -- if you think of the other big players there, it is Russia and China," she said. "I think these countries have a strong interest in Europe and we have to engage with them and use this interest to also bring them closer to Europe."
Reaching Out To Region
The EU meeting today will adopt a declaration marking the first discussion of the Central Asian strategy, saying it should be adopted by EU leaders in June.
The declaration will also contain a number of observations about individual countries in the region.
Ferrero-Waldner today said the EU will encourage Kyrgyzstan's government to pursue a dialogue with the country's civil society.
"On Kyrgyzstan, we encourage the government and all political sides in Kyrgyzstan to follow the path of political dialogue," she said. "The European Union is of course ready to support the government in its efforts to strengthen a system of rule of law and also improve the social system."
The EU draft declaration also describes as "promising" steps taken by the new Turkmen government to initiate reforms in the education and social systems. Absence of progress in those two fields prompted the European Parliament last year to block an interim EU-Turkmen trade accord to replace the existing Soviet-era agreement.
Central Asia will also be on the agenda on an EU meeting with the Russian Foreign Minister Sergei Lavrov scheduled to take place in Luxembourg later today.
Exporting Kazakhstan's Energy
Exporting Kazakhstan's Energy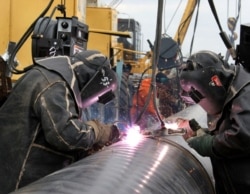 Work on a Kazakh pipeline (TASS file photo)


PRESSURE FROM THE KREMLIN? Columbia University political science professor Kimberly Marten told an RFE/RL briefing that Russia seems to be using its control of gas pipelines in the former Soviet Union to pursue its goals in Kazakhstan.
LISTEN
Listen to the entire briefing (about 60 minutes):

Real Audio
Windows Media
RELATED ARTICLES
The Emerging Post-Soviet Petrostates
Nazarbaev, Merkel Discuss Energy, Bilateral Ties
Nazarbaev Talking Energy, Economic Cooperation On China Visit
ARCHIVE
RFE/RL's coverage of
Kazakhstan
.