RFE/RL: There have been street protests in Bishkek for the past week with calls from the opposition for constitutional reforms, the resignation of President Kurmanbek Bakiev, and early elections. Do you see any chance for a compromise between the government and the opposition?
Eric McGlinchey: I do think there's a chance for compromise. We saw similar movements in the fall of 2006. And ultimately, a compromise was reached. The parliament pretty much bowed to the president after [Prime Minister Feliks] Kulov resigned. In Kyrgyzstan, since [President Askar] Akaev, there has been a greater willingness for compromise. Bakiev does not want to repeat the fate of Akaev. So I think ultimately, he would be more inclined to compromise. If the recent events of the past year or year and a half are instructive, you could get some negotiated settlement of the current crisis.
RFE/RL: What are some of the negative ramifications of Kyrgyzstan's current political crisis?
McGlinchey: If you look at the public perception of what's going on, the biggest and I think the most disheartening thing is a new sense of democratic disillusionment. When people in Kyrgyzstan think of democracy today -- and it is perfectly natural given what has happened -- there is a sense of unpredictability, there is instability, not just in the political life, but also in economic life. When new elites come into power and people lose their jobs, people are becoming really disillusioned with the system.
RFE/RL: Is the trend toward street protests in Bishkek something that you consider a positive or a negative development for democracy in Kyrgyzstan?
McGlinchey: There is a perception that there is no accountability with the people in power because the changing isn't done at the ballot box. It's done on the street. So you're talking about 10,000 or even 5,000 people who decide the future of Kyrgyzstan rather than the people broadly. So there is definitely a sense of disillusionment. That is the first negative outcome which already exists.
RFE/RL: Are there other negative aspects of these protests in the context of advancing democracy?
McGlinchey: This demonstration which is going on right now is more or less people who support Kulov. So it is not necessarily an idea of democracy or an idea of liberal reform. You see people who want to support their chosen leader. This could devolve into greater regionalism similar to what we saw [in Central Asia] in the early 1990s. It could even devolve into ethnic- based politics -- Uzbek, Kyrgyz, [and so on]. You're seeing people support regional identities, regional leaders, regional elites rather than some kind of democratic ideal. The early 1990s instructs us that this is not a good outcome for Kyrgyzstan. If you can't have a Kyrgyz perception which is broadly inclusive, it is going to be incredibly difficult to build some kind of liberal-democratic system.
RFE/RL: What is the impact of events in Kyrgyzstan upon political developments in other Central Asian countries?
McGlinchey: There's a sense, I think, in Central Asia that if you let these processes get out of hand, you get a downward spiral of instability. We saw how the [March 2005] Tulip Revolution probably encouraged [Uzbek President Islam] Karimov to crack down very heavily on the Andijon protests [in May 2005]. You get these similar demonstration effects in the other Central Asian countries. If you look at the subsequent presidential election in Tajikistan, after the Kyrgyz events, that was a very carefully orchestrated and carefully controlled election. And I think you're going to see more and more of this as Central Asian elites try not to repeat the experience of Kyrgyzstan. This is the negative demonstration effect on autocratic governments throughout the region.
RFE//RL: What about the impact of these protests on the wider region?
McGlinchey: It's also encouraging governments like China to play a more robust kind of interventionist role in these countries to ensure stability. China has an interest in maintaining stability along its borders. The $500 million loan that China gave to Uzbekistan following the Andijon events demonstrates that powers other than the United States are willing to step in to help shore up these autocratic regimes.
RFE/RL: Some observers say the West is not supporting the democratic process in Kyrgyzstan a much as it should. What do you think?
McGlinchey: When [U.S.] Ambassador Steven Young was in Kyrgyzstan right before the March 2005 events, he was fairly outspoken -- and constructively outspoken. But since then, a lot of people -- including Western analysts -- have faulted Ambassador Young for being too interventionist in Kyrgyz politics. So it's either, 'You're damned if you do,' or, 'You're damned if you don't.' If you speak about the processes of reform, you can be perceived both internationally and domestically as interventionist. If you don't speak about it then a lot of people will fault you for not pursuing an aggressive or robust strategy. What the United States is trying to do is to walk that fine line in the middle and support nongovernmental organizations without being perceived by either the local population or the ruling elite as being interventionist. It's not ideal. But I think it's probably the only viable strategy at this point.
Turmoil In Kyrgyzstan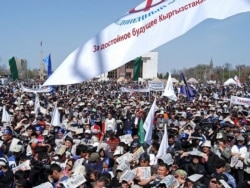 Opposition protests in Bishkek on April 11 (TASS)

TAKING TO THE STREETS. Edil Baisalov, president of the largest grassroots network in Kyrgyzstan, discussed the political turmoil in Kyrgyzstan at an RFE/RL briefing in Washington. He addressed the question of whether the unrest is a healthy democratic process or a bid to derail the country's fragile democratic transition.
LISTEN
Listen to the entire briefing (about 70 minutes):

Real Audio
Windows Media
RELATED ARTICLES
Protests Gain Steam Ahead Of Major Antigovernment Rally
Political Future Uncertain As Premier Steps Down
Revolution Anniversary Highlights Political Failures
Aksy Commemoration A Key Test For Bakiev
ARCHIVE
RFE/RL's coverage of
Kyrgyzstan
. The Kyrgyz-language website of
RFE/RL's Kyrgyz Service
.
SUBSCRIBE
For regular news and analysis on all five Central Asian countries by e-mail,
subscribe to "RFE/RL Central Asia Report."