Kyrgyz Opposition Seeks Further Protests As Thousands Turn Out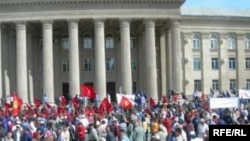 Demonstrators in Bishkek today (RFE/RL) BISHKEK, April 16, 2007 (RFE/RL) -- Kyrgyz protesters demanding President Kurmanbek Bakiev's resignation continued their peaceful rallies in the capital, Bishkek, today.
The speaker of the parliament, Marat Sultanov, told reporters that Bakiev was due to meet a group of parliamentarians late in the afternoon. No details were immediately available of the nature of those talks.
The organizers of main demonstration on Alatoo Square today claimed that 8,000 protesters were in attendance. Police put the number at 3,000.
Demands include constitutional reforms and the resignation of the president.
During a related protest outside the Kyrgyz parliament earlier in the day, opposition supporters accused the chamber of delays in introducing constitutional amendments. Parliament has asked Bakiev to nominate three new judges to the Constitutional Court before voting on a bill on constitutional changes.
The crowd at that event then moved to the capital's Alatoo Square for a sixth day of rallies to demand an early presidential election and constitutional reforms. (See images of today's demonstration.)
Organizers said they hope to attract protesters until at least April 19 in order to keep up the pressure on Bakiev and the government.
Bakiev has reportedly submitted his own proposed constitutional amendments to parliament.
But the opposition is likely to remain skeptical in light of Bakiev's reversal of similar constitutional reforms just a few months ago. A compromise constitution in November that was reached amid street demonstrations was effectively reversed a month later, once public anger had subsided.
Opening Old Wounds
It remains to be seen whether the proposed changes satisfy the opposition United Front For A Worthy Future for Kyrgyzstan and its leader, former Prime Minister Feliks Kulov.
Speaking at a news conference on April 15, Kulov accused the president and the government of plotting "new actions...through the security services" to target opposition supporters. Kulov suggested authorities were planning to arrest members of the United Front and its opposition ally, the For Reforms movement. He also charged that authorities had mobilized "criminal elements from the southern regions of the country to physically deal with the demonstrators."
"A president who instigates hostility inside the nation, by dividing it into the north and the south, has no right to be the head of the government," Kulov, who hails from the north, said of the southern-born president. "This is our position, and now we are going to stand by it strongly and persistently until we achieve victory."
News agencies suggest that the threat of violence remains, in light of historical north-south rivalries.
Many demonstrators come from the northern provinces, which include the capital, but reports have suggested that southerners are headed to Bishkek to show support for the president.
Many opposition leaders are natives of northern Kyrgyzstan, although most of them have downplayed the impact of regional rivalries on their demands of the government.
A member of the For Reforms movement, Temir Sariev, said on April 15 that he had met with Prime Minister Almaz Atambaev earlier in the day to discuss constitutional changes.
Sariev said he was told the president has agreed to back a joint effort by the government and opposition groups to prepare draft amendments to the constitution.
Osmon Artykbaev, a member of Movements for Reform, told RFE/RL that the opposition wants to include a clause that would guarantee the formation of a caretaker government that includes opposition representatives.
Death Casts Pall
In the meantime, the opposition has sent representatives -- including former Health Minister Naken Kasiev -- to Naryn Province to investigate the death of a demonstrator who appears to have died in police custody. The demonstrator, Bektemir Akunov, was arrested in Naryn on April 14 after returning from the capital, where he had been participating in protests. Police insist Akunov hanged himself in his cell. Local prosecutors say forensic examinations will be carried out to determine the cause of death.
The dead man's brother, Omurbek, told RFE/RL correspondents in Bishkek that his sibling had participated in the opposition hunger strike. But he said he finds it hard to believe that the father of eight children would commit suicide.
"He (Bektemir Akunov) was at the hunger strike from April 5 to April 11," said his brother. "He was here then. We got a taxi for him, and he went to Naryn on 14 April by noon. He was a healthy man who has spent his whole life in the mountains, in the fresh air."
peaking to protesters at Bishkek's Alatoo Square today, United Front member Meris Eshimkhanov announced that the demonstration would culminate on April 19. But he asked them to turn up again on April 17, as well, in the capital and in other areas, including the Naryn, Issik-kul, Talas, and Chuy provinces.
FURTHER READING
Will The Revolution End?

The past two years in Kyrgyzstan has been tumultuous and characterized by protests and quarrels within the government.

more

Profile: Feliks Kulov

Feliks Kulov has served many different roles -- a former Kyrgyz vice president, Bishkek mayor, and leader of an opposition party. .

more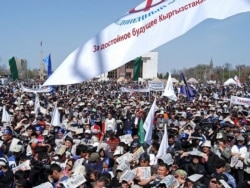 Opposition protests in Bishkek on April 11 (TASS)

TAKING TO THE STREETS. Edil Baisalov, president of the largest grassroots network in Kyrgyzstan, discussed the political turmoil in Kyrgyzstan at an RFE/RL briefing in Washington. He addressed the question of whether the unrest is a healthy democratic process or a bid to derail the country's fragile democratic transition.
LISTEN
Listen to the entire briefing (about 70 minutes):

Real Audio
Windows Media
RELATED ARTICLES
Protests Gain Steam Ahead Of Major Antigovernment Rally
Political Future Uncertain As Premier Steps Down
Revolution Anniversary Highlights Political Failures
Aksy Commemoration A Key Test For Bakiev
ARCHIVE
RFE/RL's coverage of
Kyrgyzstan
. The Kyrgyz-language website of
RFE/RL's Kyrgyz Service
.
SUBSCRIBE
For regular news and analysis on all five Central Asian countries by e-mail,
subscribe to "RFE/RL Central Asia Report."