The statement by the International Helsinki Federation for Human Rights (IHF) comes in the midst of political turmoil in which Kyrgyzstan's opposition is demanding an early presidential election and constitutional reforms.
The Vienna-based group says five media professionals were beaten in Kyrgyzstan in the past month -- Kairat Birimkumov, Daniyar Isanov, Talantbek Sopuev, and two other unnamed journalists. Two of them, Birimkumov and Isanov, were hospitalized.
The IHF says it is not aware of anyone having been arrested and charged with these attacks.
The group also says the chairman of the Kyrgyz Committee for Human Rights has been recently subjected to threats and an attack. Ramazan Dyryldaev has criticized Kyrgyz authorities and opposition leaders for their failure to enter into genuine political dialogue.
Turmoil In Kyrgyzstan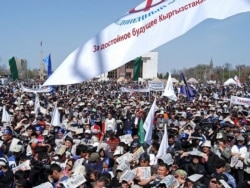 Opposition protests in Bishkek on April 11 (TASS)

TAKING TO THE STREETS. Edil Baisalov, president of the largest grassroots network in Kyrgyzstan, discussed the political turmoil in Kyrgyzstan at an RFE/RL briefing in Washington. He addressed the question of whether the unrest is a healthy democratic process or a bid to derail the country's fragile democratic transition.
LISTEN
Listen to the entire briefing (about 70 minutes):

Real Audio
Windows Media
RELATED ARTICLES
Protests Gain Steam Ahead Of Major Antigovernment Rally
Political Future Uncertain As Premier Steps Down
Revolution Anniversary Highlights Political Failures
Aksy Commemoration A Key Test For Bakiev
ARCHIVE
RFE/RL's coverage of
Kyrgyzstan
. The Kyrgyz-language website of
RFE/RL's Kyrgyz Service
.
SUBSCRIBE
For regular news and analysis on all five Central Asian countries by e-mail,
subscribe to "RFE/RL Central Asia Report."