Other protesters are marching toward the square from various parts of the city. Organizers of the protest say Bakiev has not fulfilled promises he made when campaigning for the presidency two years ago and that he appears unwilling or unable to make good on his pledges.
The opposition United Front For A Worthy Future For Kyrgyzstan and the For Reforms movement says 50,000 people will take to the streets of the Kyrgyz capital.
Protesters started their march from Jengish (Victory) Square toward Alatoo (Freedom) Square chanting as they walked, "Bakiev Go! Bakiev Must Go!" (View images of today's demonstration.)
On Alatoo Square, a crowd, estimated to number more than 10,000 people, held up banners reading "Reforms Without Bakiev," as leaders of the United Front gave speeches. About 100 yurts and tents have been set up to accommodate those planning to stay overnight.
New Prime Minister Almaz Atambaev spoke on Alatoo Square, but was unable to finish his speech because of noise from the crowd and left shortly afterwards.
Listen to Atambaev's entire appearance at today's rally (in Kyrgyz; about eight minutes):

Real Audio
Windows Media
Atambaev is the leader of the opposition Social Democratic Party and has said several times since becoming prime minister less than two weeks ago that he represents the interests of the opposition.
'A Thief Should Be In Jail'
The founder and leader of the United Front, former Prime Minister Feliks Kulov also addressed the people on Alatoo Square today.
"Our goal is common," Kulov said. "What is our aim? Constitutional reforms and an early presidential election. We don't have any other aim. However, the 'tails' [supporters] of Bakiev dislike this. It is very important for them to maintain their power by any means."
Opposition lawmaker Melis Eshimkanov, one of some 100 people who have been on hunger strike on Alatoo Square since last week, told the crowd "a thief should be in jail, but our thief is in the White House."
Another opposition member of parliament, former speaker Omurbek Tekebaev told the crowd, "Our president cannot keep his word and therefore we say to him 'Go!'"
"We will change power by peaceful means," Tekebaev told the rally. "We will change the epoch by peaceful means. Because we need a new epoch, a new system. That is why we say: We need urgent, fast, deep constitutional changes and reforms."
Some 4,000 members of law enforcement agencies have been deployed to maintain order. By order of the president, police and security forces at the rally are not carrying firearms.
Organizers of the rally have said there will be no violence or lawlessness of any kind.
Unfulfilled Promises
Opposition leaders say they are rallying because Bakiev has not fulfilled promises he made to the people after protests and rallies ousted former President Askar Akaev in March 2005.
The expectations of the nation were raised after Akaev left. Many in the country now feel that they ousted Akaev only to see the same style of government return under a different leader.
Bakiev promised constitutional reforms, which many understood as providing a better balance between the executive, legislative, and judicial branches of government.
Under Akaev, a series of referendums increased the power of the executive branch at the expense of the other two branches. But in 2006, Bakiev showed on several occasions that he did not want to amend the constitution until after his term in office expired in 2010.
Changes were forced on Bakiev when the For Reforms movement organized a huge rally in November 2006 that saw more than 20,000 people turn out to demand a new constitution.
Bakiev conceded, but in December, after the prime minister and government resigned, pro-Bakiev deputies in parliament pushed through amendments to the new constitution that restored much of the power Bakiev lost in the original text. The opposition promised to bring crowds back into the streets. Today's rally is the result.
A Bid To Compromise
In an attempt to defuse the current situation, Bakiev on April 10 approved a package of constitutional amendments that will reduce his power. He has sent them to parliament for review.
Bakiev and other officials have accused opposition leaders of organizing today's rally to further their own political aspirations. Bakiev spoke to the nation on April 10 in a nationally televised address.
"They want their own power," Bakiev said. "They want the resignation of the legally elected president, and they are ready to carry out any actions to reach that goal. A specially considered strategy for the change of power by illegal means, by coup d'etat, is being carried out."
Today, Justice Minister Marat Kaiypov echoed Bakiev's comments in an exclusive interview with RFE/RL.
"Maybe my assessment can be considered to be an opinion by a representative of the authorities," Kaiypov said. "However, I believe that the current opposition members and the [United] Front leaders aim to remove the power representatives, especially the president, from their positions without any conditions, without any negotiations, by the principle of ultimatum, by forcing them toward the precipice. They don't want political stability in the country."
Even if Bakiev survives the latest protests, today's rally is evidence of the eroding confidence in his ability to lead.
Smaller protests against the president took place last week in villages and towns in the northern part of the country.
Protests planned in the south were canceled because Bakiev comes from the south. The opposition feared clashes between Bakiev and opposition supporters.
But opposition leaders in the south promised that hundreds of people would make the trip to Bishkek to participate in today's rally.
(RFE/RL's Kyrgyz Service contributed to this report)
Turmoil In Kyrgyzstan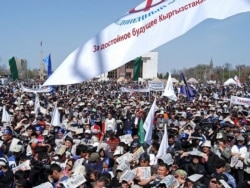 Opposition protests in Bishkek on April 11 (TASS)

TAKING TO THE STREETS. Edil Baisalov, president of the largest grassroots network in Kyrgyzstan, discussed the political turmoil in Kyrgyzstan at an RFE/RL briefing in Washington. He addressed the question of whether the unrest is a healthy democratic process or a bid to derail the country's fragile democratic transition.
LISTEN
Listen to the entire briefing (about 70 minutes):

Real Audio
Windows Media
RELATED ARTICLES
Protests Gain Steam Ahead Of Major Antigovernment Rally
Political Future Uncertain As Premier Steps Down
Revolution Anniversary Highlights Political Failures
Aksy Commemoration A Key Test For Bakiev
ARCHIVE
RFE/RL's coverage of
Kyrgyzstan
. The Kyrgyz-language website of
RFE/RL's Kyrgyz Service
.
SUBSCRIBE
For regular news and analysis on all five Central Asian countries by e-mail,
subscribe to "RFE/RL Central Asia Report."