Bakiev defended the government's progress in improving the situation in the country, saying the economy was becoming stable, Kyrgyz state television was undergoing reforms the opposition demanded, and a draft of a new constitution has just been completed.
Bakiev said protests are being organized against the president and the government by "dissatisfied politicians who are trying, under the guise of a battle for reform, to get power for themselves."
In a statement, Bakiev said demonstrations planned for April 11 calling on him to resign will be allowed to go ahead in Bishkek, but that police would take the "very strongest measures" against anyone breaking the law.
In other news, Prime Minister Almaz Atambaev told journaliststoday in Biskek that a
working group led by him has submitted draft proposals for amendments and
changes to the Kyrgyz Constitution to Bakiev.
"These changes, mainly, were based on the ideas of the November [2006] constitution," he said. "As a the result of the changes, there would be a strong
parliament, a strong government, a strong judiciary, and a strong president in
our country. We made an effort to reach a maximum balance between the branches
of state power."
Understanding Kyrgyzstan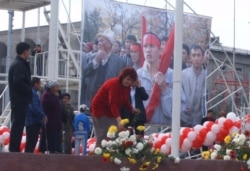 Workers preparing for celebrations of the constitutional compromise in Bishkek on November 9 (RFE/RL)


A STABLE FOUNDATION? On November 9, RFE/RL's Washington office hosted a briefing featuring RFE/RL Kyrgyz Service Director Tyntchtykbek Tchoroev and RFE/RL analyst Daniel Kimmage.
LISTEN
Listen to the complete discussion (about 80 minutes):

Real Audio
Windows Media
RELATED ARTICLES
Parliament Adopts Constitution Curtailing Presidential Powers
Crisis Deepens After President Proposes Constitutional Changes
Bishkek Prepares For Large Opposition Rally