The activists are demanding the resignation of President Kurmanbek Bakiev and further constitutional reforms.
Atambaev said he told them that a special working group has already started preparing consensus proposals for changes to the constitution. Atambaev also called on the opposition to resolve the dispute over constitutional reforms through dialogue.
"You know, generally, I don't like ultimatums," Atambaev told reporters in Bishkek. "We already had a meeting with the working group [for constitutional reform] this morning and we began drafting changes and amendments to the existing constitution. And these changes and amendments will be based on the provisions of the November [2006] constitution."
More than 60 opposition activists launched a hunger strike on April 5 in front of the parliament building in the capital Bishkek. (See images from today's demonstrations).
They demand Bakiev's resignation if he refuses to hold an early presidential election and to carry out constitutional reforms.
Feliks Kulov, one of the leaders of the United Front for a Worthy Future for Kyrgyzstan and a former prime minister, also met with the hunger strikers today.
The opposition plans to launch mass rallies next week in support of their demands.
Understanding Kyrgyzstan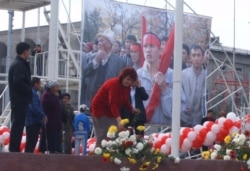 Workers preparing for celebrations of the constitutional compromise in Bishkek on November 9 (RFE/RL)


A STABLE FOUNDATION? On November 9, RFE/RL's Washington office hosted a briefing featuring RFE/RL Kyrgyz Service Director Tyntchtykbek Tchoroev and RFE/RL analyst Daniel Kimmage.
LISTEN
Listen to the complete discussion (about 80 minutes):

Real Audio
Windows Media
RELATED ARTICLES
Parliament Adopts Constitution Curtailing Presidential Powers
Crisis Deepens After President Proposes Constitutional Changes
Bishkek Prepares For Large Opposition Rally