Kyrgyz Premier Creates Working Group On Reform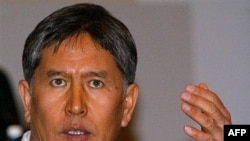 Almaz Atambaev (file photo) (AFP) BISHKEK, April 5, 2007 (RFE/RL) -- Kyrgyz Prime Minister Almaz Atambaev today signed an order to establish a working group that will prepare proposals for improving the workings of the governmental system, RFE/RL's Kyrgyz Service reported.
Among the 11 members of the working group are moderate opposition politicians Roza Otunbaeva and Ishenbay Abdyrazakov.
However, representatives of the opposition bloc the United Front for a Worthy Future for Kyrgyzstan started a hunger strike today, rejecting the idea of establishing the working group for constitutional reforms.
They want instead the resignation of President Kurmanbek Bakiev.
"Our [main] demand is not constitutional reform," United Front member Beknazar Orunov told RFE/RL today. "Our demand is the resignation of Bakiev. He has established many such constitutional working groups before. Why is he moving us to different sides like a juggler? There won't be any reform in our [country] unless he goes."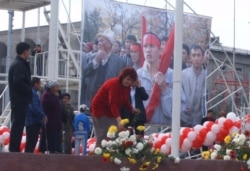 Workers preparing for celebrations of the constitutional compromise in Bishkek on November 9 (RFE/RL)


A STABLE FOUNDATION? On November 9, RFE/RL's Washington office hosted a briefing featuring RFE/RL Kyrgyz Service Director Tyntchtykbek Tchoroev and RFE/RL analyst Daniel Kimmage.
LISTEN
Listen to the complete discussion (about 80 minutes):

Real Audio
Windows Media
RELATED ARTICLES
Parliament Adopts Constitution Curtailing Presidential Powers
Crisis Deepens After President Proposes Constitutional Changes
Bishkek Prepares For Large Opposition Rally