Earlier today, the leader of the opposition United Front for a Worthy Future for Kyrgyzstan, former Prime Minister Feliks Kulov, accused authorities of being behind violence at the April 14 demonstration.
A scuffle broke out between some 200 people during the April 14 rally, and some minor injuries were reported.
Speaking at a press conference, Kulov said the United Front was now calling for the immediate resignation of President Kurmanbek Bakiev.
"In fact yesterday, the country was on the verge of regional confrontation and was very close to a state that can be called 'civil war.' Consequently, the United Front has decided to change its demands and to call for the immediate resignation of President Bakiev. [It also calls for] the immediate forming of a government of national reconciliation together with our parliament," Kulov said.
The presidential press office denied to RFE/RL's Kyrgyz Service accusations that the government was behind the April 14 violence.
Minor Scuffles
RFE/RL's Kyrgyz Service reported that about 4,000 people attended a fourth day of protests in Bishkek on April 14.
The rally was held in front of the National TV and Radio Broadcasting Corporation office, where protesters also demanded unbiased media coverage of the rally.
Protesters then marched back to central Alatoo Square.
Interior Minister Bolotbek Nogoibaev addressed the crowd after the fighting, and said those responsible for provoking the violence will "face justice."
Constitutional Stalemate
Parliament is to consider a draft law on amendments to the constitution next week after approving new judges to the Constitutional Court.
At present, there is no quorum on the court, making it unable to convene.
President Kurmanbek Bakiev has faced heavy opposition both in parliament and on the streets during his less-than-two years in office. Opponents accuse him of failing to tackle widespread corruption and resisting constitutional reforms to limit presidential powers.
Bakiev has accused the demonstrators of attempting to stage a coup against him. But in the run-up to demonstrations in the capital, he reportedly ordered police to avoid the use of force against protesters.
FURTHER READING
Will The Revolution End?

The past two years in Kyrgyzstan has been tumultuous and characterized by protests and quarrels within the government.

more

Profile: Feliks Kulov

Feliks Kulov has served many different roles -- a former Kyrgyz vice president, Bishkek mayor, and leader of an opposition party. .

more
Understanding Kyrgyzstan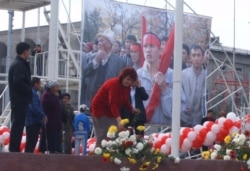 Workers preparing for celebrations of the constitutional compromise in Bishkek on November 9 (RFE/RL)


A STABLE FOUNDATION? On November 9, RFE/RL's Washington office hosted a briefing featuring RFE/RL Kyrgyz Service Director Tyntchtykbek Tchoroev and RFE/RL analyst Daniel Kimmage.
LISTEN
Listen to the complete discussion (about 80 minutes):

Real Audio
Windows Media
RELATED ARTICLES
Parliament Adopts Constitution Curtailing Presidential Powers
Crisis Deepens After President Proposes Constitutional Changes
Bishkek Prepares For Large Opposition Rally