Today's rally was held in front of the National TV and Radio Broadcasting Corporation office, where protesters also demanded unbiased media coverage of the rally.
Protesters then marched back to central Alatoo Square.
A correspondent for RFE/RL's Kyrgyz Service said that a scuffle broke out between some 200 people during today's rally, and some minor injuries were reported.
Interior Minister Bolotbek Nogoibaev addressed the crowd after the fighting, and said those responsible for provoking the violence will "face justice."
Parliament is to consider a draft law on amendments to the constitution next week after approving new judges to the Constitutional Court.
At present, there is no quorum on the court, making it unable to convene.
President Kurmanbek Bakiev has faced heavy opposition both in parliament and on the streets during his less-than-two years in office. Opponents accuse him of failing to tackle widespread corruption and resisting constitutional reforms to limit presidential powers.
Bakiev has accused the demonstrators of attempting to stage a coup against him. But in the run-up to demonstrations in the capital, he reportedly ordered police to avoid the use of force against protesters.
Until today, the rallies in Bishkek had been peaceful, with political speeches followed by concerts.
Universities, schools, and other institutions have been functioning normally.
Kyrgyz Voices
RFE/RL's Kyrgyz Service on April 12 asked participants in the protest rally on Bishkek's Alatoo Square why they had come out into the streets.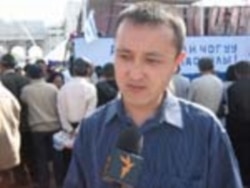 Cholponbek, a youth group member from Bishkek:
"We want to change the political system and to build the worthy future for young people. That is why we came here."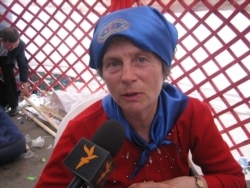 Tatyana Nikolaevna, an ethnic Russian pensioner from Kaiyngdy, Chui Oblast:
"I came here to seek fairness. I was taken to the court and accused of mudslinging."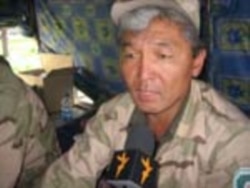 Turatbek, an Afghan War veteran from Bishkek:
"To improve the life of the people, we must change the constitution. We demand an early presidential election."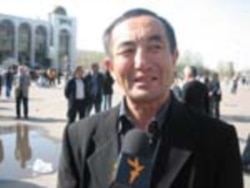 Mambetimin, NGO representative:
"If Bakiev was able to keep his promises and make reforms people would not come to the street. But he hasn't done anything and it forced people to come to the rally. We are strongly against the current government"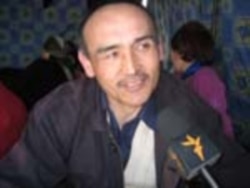 Kamchybek, unemployed from Bishkek:
"We must change the existing system. This is very important."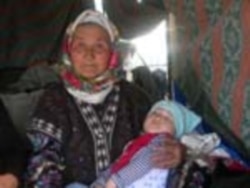 Kakan-apa, pensioner from Talas District, Talas Oblast:
"I came here to express my concern about the demolition of the Kulov-Bakiev tandem. I'm a mother of 10 children, with 30 grandchildren, and I am very much worried about their future."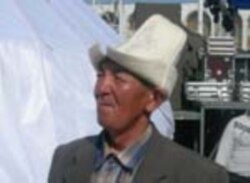 Kudaibergen, Naryn district of Naryn Oblast:
"If Bakiev is following Akaev's path, then let him go away. Otherwise, he should take care of people and raise the youth. The future belongs to the young generation."
ARCHIVE
RFE/RL's coverage of
Kyrgyzstan
. The Kyrgyz-language website of
RFE/RL's Kyrgyz Service
.