The word "stability" arises in virtually any discussion of events in Kyrgyzstan, but it appears to be more elusive now than ever.
Opposition groups in Kyrgyzstan are currently holding a rally aimed at forcing President Kurmanbek Bakiev to make way for an early presidential election. The demonstrators are also demanding constitutional reforms.
An Era Of Demonstrations
There have been more demonstrations in Kyrgyzstan since independence in 1991 than in the other four Central Asian states combined. But since the revolution that ousted former President Askar Akaev two years ago, breaks between protests have been rare -- they seem to come one after another. The frequency of rallies in Kyrgyzstan has led some to comment that the country is in danger of becoming a failed state.
"Two years after March 2005, we have to say that many if not most of the slogans of the Tulip Revolution have not been realized," Edil Baisalov, the head of Kyrgyzstan's Coalition for Democracy and Civil Society, said of the near-constant protests in Kyrgyzstan during a recent appearance at RFE/RL offices in Washington. "For many in Kyrgyzstan, it only turned into a change of a few nameplates on some of the highest floors [of the government building]. But everything else remained; and what we hoped for was to receive a moral revolution that would, first of all, mean not only change of regime but change in the way the people and government communicate [and] that many of the formerly acceptable levels of corruption and arrogance -- these sort of things would go away. Not only have they not gone away, but many people will tell you that they have multiplied."
Ishenbay Abdyrazakov, a former state secretary of Kyrgyzstan, tells RFE/RL's Kyrgyz Service that many of the problems can be rectified without demonstrations. He blames a lack of will on the part of politicians.
"It is possible to resolve a lot of issues without rallies," Abdyrazakov says. "However, if the authorities won't resolve the 'ripe' issues in time by relevant measures, then the people's passion will grow to anger and they will go to rally. This is the only reason for a rally."
There is little doubt that the failure to resolve those "ripe" issues is fueling protests.
'A Culture Of Demonstrations'
John MacLeod, a senior editor at the London-based Institute for War and Peace Reporting (IWPR), says that people in Kyrgyzstan look at what was accomplished by the March 2005 demonstrations and think the tactic can work again.
"A culture of demonstrations has persisted since the original March [2005] revolution and the protests that led up to that," MacLeod says. "So this sense that things could be changed by action in the streets without extreme violence took root. Unfortunately, it's now happening repeatedly -- so that sense of popular action becomes rather devalued."
The head of the International Crisis Group's Central Asian project, Michael Hall, says it now appears the government and the opposition place greater trust in rallies than negotiations.
"Unfortunately, I don't see much interest in conducting negotiations," Hall says. "I think [both sides] are using rallies to resolve [disputes]. We see in Kyrgyzstan that, more and more, they are resorting to the streets to decide political arguments."
Some people wonder whether institutions within Kyrgyzstan might mediate or arbitrate such disputes. The demand for constitutional reforms, for example, could be a matter addressed to the country's Constitutional Court.
But IWPR editor MacLeod says the system has not yet evolved sufficiently to permit that.
"There are structures that could play those roles, but really all that matters in this post-Soviet system are the strong institutions of the presidency and, to a lesser extent, the cabinet of ministers, the government -- and then in parallel to that and sometimes in opposition to the executive is parliament, which has quite a lot of pro-Bakiev politicians and anti-Bakiev politicians," he said.
Power Struggle
In the past two years, rallies have aimed to rid the government of corruption, remove criminals from public office, and implement constitutional reforms. But MacLeod says the roots of this week's rally appear to lie elsewhere.
"One can also perceive a much more naked, raw power struggle which at the moment is between Bakiev and Feliks Kulov, who was until recently an ally and a prime minister of Bakiev," MacLeod says. "[Kulov] now heads the opposition, and the legalistic argument has given way in a sense to this hardening of positions between the two sides-- because it's fundamentally about who is going to win."
But why would thousands of people come out to side with either Bakiev or Kulov?
"There isn't really at the moment an alternative vehicle through which these ordinary people could articulate these more real economic pressing concerns," MacLeod offers. "The only way they have to do that is to join these essentially processes. So they may feel that by shouting for Bakiev's resignation they're articulating their own desire for a better economic future and less corruption in officialdom and so on."
The current rally appears to be a showdown between Bakiev and his former prime minister, Kulov. But since a number of issues remain unresolved -- political, economic, and social -- it appears Kyrgyzstan's "culture of demonstrations" will continue.
(Tynchtykbek Tchoroev of RFE/RL's Kyrgyz Service contributed to this report.)
Turmoil In Kyrgyzstan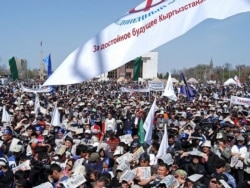 Opposition protests in Bishkek on April 11 (TASS)

TAKING TO THE STREETS. Edil Baisalov, president of the largest grassroots network in Kyrgyzstan, discussed the political turmoil in Kyrgyzstan at an RFE/RL briefing in Washington. He addressed the question of whether the unrest is a healthy democratic process or a bid to derail the country's fragile democratic transition.
LISTEN
Listen to the entire briefing (about 70 minutes):

Real Audio
Windows Media
RELATED ARTICLES
Protests Gain Steam Ahead Of Major Antigovernment Rally
Political Future Uncertain As Premier Steps Down
Revolution Anniversary Highlights Political Failures
Aksy Commemoration A Key Test For Bakiev
ARCHIVE
RFE/RL's coverage of
Kyrgyzstan
. The Kyrgyz-language website of
RFE/RL's Kyrgyz Service
.
SUBSCRIBE
For regular news and analysis on all five Central Asian countries by e-mail,
subscribe to "RFE/RL Central Asia Report."