Opposition leaders have urged people to return on April 14 for a fourth day to demand the resignation of President Kurmanbek Bakiev along with an early presidential election, and constitutional reforms.
Addressing demonstrators today, opposition leader Omurbek Tekebaev claimed that police had arrested 160 protesters and he demanded their immediate release.
The Interior Ministry confirmed that more than 140 people had been detained due to what it called a "lack of proper documents."
Some 5,000 demonstrators are estimated to have assembled today in Bishkek, although one estimate was as high as 10,000.
Opposition leaders addressed the crowd on the city's central Alatoo Square, outside the government building.
The first day of the demonstrations -- April 11 -- drew a crowd estimated at 10,000 people. By the next day, the crowd had dwindled to some 2,000.
'A Decent Future'
Hot weather prompted organizers to schedule the start of today's main rally for late afternoon. They also hoped the late start would allow office workers and students to participate without interrupting their jobs or studies.
The Kyrgyz Education Ministry urged students not to participate in demonstrations of any sort -- whether opposition or pro-government. Still, many young people appear to have joined the ranks of protesters.
RFE/RL's Kyrgyz Service talked to people in the streets of Bishkek. on April 12.
Speaking at Alatoo Square, Youth Group member Cholponbek told RFE/RL's Kyrgyz Service that young people want a change in leadership because the current leaders have failed to change people's lives for the better:
"We want to change the political system to build a decent future for the youth," Cholponbek said. "That's why we are here."
Another young man, Kudaibergen is one of hundreds of demonstrators who came to Bishkek from the eastern Naryn Province. He claims that Bakiev -- who rode a popular revolution that followed widespread demonstrations to power in 2005 -- has disappointed those who stood by him in the early days. Like some other critics, he says this government has adopted the bad habits of Kyrgyzstan's first post-Soviet president, Askar Akaev.
"If Bakiev is following Akaev's path, then let him go away," Kudaibergen said. "Otherwise, he should take care of people and rise the youth. The future belongs to the young generation."
Not everyone who has joined the demonstrations has an agenda -- or even a clear idea of what has been going on. Two young protesters, Nurlan and Rusbek, interviewed at Alatoo Square said they were simply "moving along with the crowd" and don't care too much about who leads the country.
"My aim? We gathered here -- that's it," Nurlan said. "They said, 'Let's come out!,' and we came out. I don't understand, myself, why I'm here. Now, I've been here for two days. I spent the last night here (at Alatoo Square)."
Who's Who Of The Opposition
Several opposition groups are behind the current protests, and some local observers suggest that each of those blocs -- and even parties within those blocs -- has adopted a different stance.
While the United Front For A Worthy Future for Kyrgyzstan is led by former Bakiev ally and ex-Prime Minister Feliks Kulov. The group has demanded early presidential elections.
But other groups, like the Asaba National Revival party, have opted for a more moderate tone. Asaba co-Chairwoman Roza Otunbaeva and the current prime minister, Almaz Atambaev, have sought along with others to mediate between the president's allies and his harshest critics.
President Bakiev has faced heavy opposition both in parliament and on the streets during his less-than-two years in office. Opponents accuse him of failing to tackle widespread corruption and resisting constitutional reforms to limit presidential powers.
Bakiev has accused the demonstrators of attempting to stage a coup against him. But in the run-up to this long-planned demonstration in the capital, he reportedly ordered police to avoid the use of force against protesters.
So far, the demonstrations in the Kyrgyz capital have been peaceful, with political speeches followed by concerts. Universities, schools, and other institutions have been functioning normally.
Kyrgyz demonstrators have shown in the past that they can be patient -- so the president's opponents might well force Bakiev to make the next move in this standoff.
Presidential Press Secretary Nurlan Shakiev confirmed to RFE/RL today that the head of the presidential administration had been dismissed. Shakiev did not give a reason why Miktybek Abduldaev was fired.
News of the dismissal reached opposition protesters outside the government building, who said it was an indication there are big problems within the government.

Kyrgyz Voices
RFE/RL's Kyrgyz Service on April 12 asked participants in the protest rally on Bishkek's Alatoo Square why they had come out into the streets.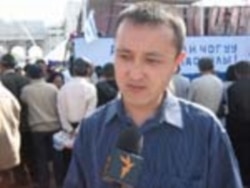 Cholponbek, a youth group member from Bishkek:
"We want to change the political system and to build the worthy future for young people. That is why we came here."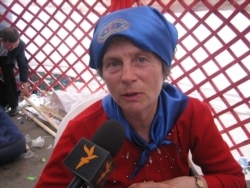 Tatyana Nikolaevna, an ethnic Russian pensioner from Kaiyngdy, Chui Oblast:
"I came here to seek fairness. I was taken to the court and accused of mudslinging."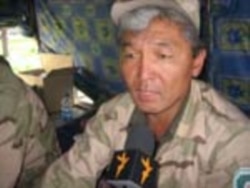 Turatbek, an Afghan War veteran from Bishkek:
"To improve the life of the people, we must change the constitution. We demand an early presidential election."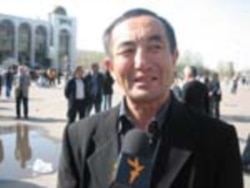 Mambetimin, NGO representative:
"If Bakiev was able to keep his promises and make reforms people would not come to the street. But he hasn't done anything and it forced people to come to the rally. We are strongly against the current government"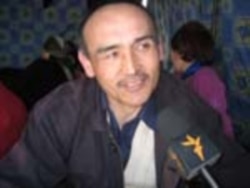 Kamchybek, unemployed from Bishkek:
"We must change the existing system. This is very important."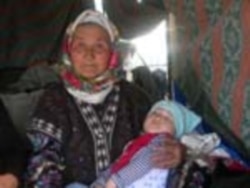 Kakan-apa, pensioner from Talas District, Talas Oblast:
"I came here to express my concern about the demolition of the Kulov-Bakiev tandem. I'm a mother of 10 children, with 30 grandchildren, and I am very much worried about their future."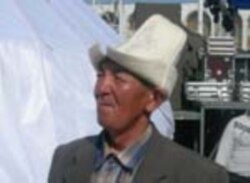 Kudaibergen, Naryn district of Naryn Oblast:
"If Bakiev is following Akaev's path, then let him go away. Otherwise, he should take care of people and raise the youth. The future belongs to the young generation."
ARCHIVE
RFE/RL's coverage of
Kyrgyzstan
. The Kyrgyz-language website of
RFE/RL's Kyrgyz Service
.