Armenia: 'Every Armenian Knows What Happened To Their Ancestors'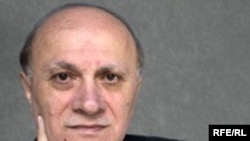 Harry Tamrazian (RFE/RL) April 23, 2007 (RFE/RL) -- On April 24, Armenians around the world will commemorate the 92nd anniversary of the mass killings and deportations of Armenians by Ottoman Turks. Armenians refer to this chapter in their history as genocide -- a term the Turks firmly reject. The issue has strained relations and closed the border between the two countries. RFE/RL's Armenian Service director Harry Tamrazian gives his perspectives on the issue.
"To be Armenian and not know what happened in 1915 is unimaginable. Every Armenian, wherever they are in the world, knows what happened to their ancestors at the beginning of the 20th century. And every Armenian knows that almost the entire Armenian population in Turkey was lost because of an extremist, ethnocentric policy carried out by the government of the Ottoman Empire in 1915.
The issue will not go away. Armenians will not give up or compromise on their tragedy, which they firmly believe was a genocide.
For the Armenian government, the fact that Turkey refuses to acknowledge the extent of the mass killings is disturbing. They still consider Turkey to be the biggest security threat for the country. Yerevan believes that that threat could be eliminated if Ankara recognizes the Armenian genocide.
There have been hopeful signs in Turkey in recent months. More and more Turkish intellectuals and academics have come forward to publicly challenge their government's stance on the issue, some calling for open debate. Turkish writer and Nobel laureate Orhan Pamuk has been one of the most prominent and outspoken. He has said that over 1 million Armenians were killed in Turkey and no one wants to talk about it. He was charged by the Turkish authorities for insulting Turkishness under Article 301 of the penal code, but the charges were subsequently dropped.
Many hoped that things would change after the killing of Turkish-Armenian journalist Hrant Dink. Thousands of Turks took to the streets to express their anger, chanting 'We are all Hrant Dink, we are all Armenians.' Many saw the outpouring of emotion as a sign that the reconciliation process had begun. But the Turkish government has not capitalized on that historic moment. Article 301, which makes it illegal to criticize Turkishness or the Turkish government, still remains on the books.
Opening up the Armenian-Turkish border could be the most positive and effective step toward reconciliation. Unfortunately Ankara still refuses to consider the move, despite pressure from Washington and Brussels. The border remains untouched, a relic of the Cold War.
Armenians still hope that one day Turkey will recognize their tragedy. This year in Paris, Armenians and Turks jointly commemorated the anniversary of the genocide. More than two dozens French-Armenians and French-Turks laid flowers on the monument of the great Armenian composer Komitas, who, for many, has come to symbolize the suffering endured by the Armenians."
(The views are the author's own and do not represent those of RFE/RL.)