Western leaders are remembering him as a man who boldly took his place on the world stage during times of great uncertainty and turmoil
(read Yeltsin's obituary).
In Washington, U.S. President George W. Bush expressed both sadness and awe at Yeltsin's passing. And he praised the Russian's leadership at what he called "a time of momentous change" for the world.
"Laura [Mrs. Bush] and I are deeply saddened by the death of former Russian President Boris Yeltsin," Bush said through a spokeswoman.
"President Yeltsin was an historic figure who served his country during a time of momentous change. He played a key role as the Soviet Union dissolved, helped lay the foundations of freedom in Russia and became the first democratically elected leader in that country's history," the U.S. president said.
"I appreciate the efforts that President Yeltsin made to build a strong relationship between Russia and the United States. We offer our sincerest condolences to the Yeltsin family and to the Russian people."
A Demand For Democracy
U.S. Defense Secretary Robert Gates was in Moscow when the news of Yeltsin's death was announced today. He recalled the day Yeltsin defiantly climbed onto a Soviet tank in Moscow in 1991 during the attempted coup of Soviet leader Mikhail Gorbachev. Gates said no American who saw that event will ever forget it.
Javier Solana, the foreign policy and security chief of the European Union, also recalled Yeltsin's behavior during the coup, which ended with Gorbachev being restored to office.
Solana spoke about his memories of Yeltsin during a news conference today in Luxembourg.
"I had the opportunity of meeting President Yeltsin during his long period of tenure on many, many occasions, and I would like to remember two [such occasions] that for me were very fundamental in my political life," Solana said.
"One was the summer of 1991, in which you remember very well the role that he played [in opposing the coup against Gorbachev], and the second was in 1997 when I signed with him the first agreement between the Russian Federation and NATO."
Benita Ferrero-Waldner, the EU's external affairs commissioner, was also with Solana in Luxembourg. She recalled Yeltsin's demand that Russia adopt democracy and the market economy.
"He will always be remembered by us for his, I would say, lasting legacy, for the development of democracy and also market economy in Russia," she said.
Russians themselves will have an opportunity to remember Yeltsin at his funeral on April 25, which President Vladimir Putin has declared a day of national mourning.
The Kremlin said Yeltsin will be buried in Moscow's Novodevichy Cemetery, where many of the leading figures in Russian history are interred.
Assessing Boris Yeltsin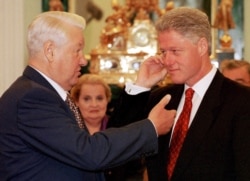 Boris Yeltsin (left) meeting with Bill Clinton in the Kremlin on September 1, 1998 (epa)

CLINTON ON YELTSIN: U.S. President Bill Clinton spoke to reporters in Washington on December 31, 1999, shortly after hearing that Boris Yeltsin had resigned. Here are some of his comments:
"[Boris Yeltsin's] lasting achievement has been dismantling the communist system and creating a vital, democratic process within a constitutional framework. The fact that Prime Minister [Vladimir] Putin assumes responsibility today as acting president, in accordance with the constitution, is the latest example of President Yeltsin's achievement."
"The relationship between the United States and Russia under President Yeltsin has produced genuine progress for both our people. Five thousand strategic nuclear weapons have been dismantled. Our nuclear weapons are no longer targeted at each other. We have worked together to eliminate nuclear weapons from the other states of the former Soviet Union."
"Well, I liked him because he was always very [direct] with me. He always did exactly what he said he would do, and he was willing to take chances to try to improve our relationship, to try to improve democracy in Russia."
"I liked him because I think he genuinely deplored communism. He lived with it, he saw it, and he believed that democracy was the best system. I think it was in every fiber of his being."
"We had our arguments. We had our fights. We had our genuine disagreements about our national interests from time to time, but I think that the Russian people were well served to have a leader who honestly believed that their votes ought to determine who is running the show in Russia and what the future direction of the country should be."
SUBSCRIBE
For news and analysis on Russia by e-mail,
subscribe to "RFE/RL Russia Report."