Ahmadinejad was quoted on the website of Iranian state-run, Arabic-language Al-Alam television as saying he is ready to negotiate with Bush about U.S.-Iranian bilateral issues as well as regional and international issues.
The Iranian leader said he wanted any talks with Bush to be attended by the media.
Gordon Johndroe, a spokesman for the U.S. National Security Council, said the United States remains ready for discussions with Iran if Tehran first meets international demands to stop uranium enrichment and reprocessing.
Johndroe called on Ahmadinejad to halt uranium enrichment, "instead of offering televised debates or a media spectacle."
Iran has repeatedly rejected demands to halt uranium enrichment, despite United Nations Security Council sanctions that have been imposed on the Islamic republic. Iran denies trying to make nuclear weapons, and says all its nuclear activities are legal.
(alalam.ir, AP)
Ahmadinejad's Letter To Bush
Ahmadinejad's Letter To Bush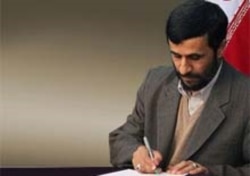 (Fars)


PRESIDENT TO PRESIDENT: On May 8, the Iranian government announced that President Mahmud Ahmadinejad had sent a letter to U.S. President George W. Bush. The letter was the first direct communication between leaders of the two countries since Iran's 1979 Islamic Revolution. RFE/RL has posted the English version of Ahmadinejad's letter that was posted on the Iranian president's website.
"The people will scrutinize our presidencies," AHMADINEJAD wrote. "Did we manage to bring peace, security, and prosperity to our people or insecurity and unemployment? Did we intend to establish justice, or just support special-interest groups and -- by forcing many people to live in poverty and hardship -- make a few people rich and powerful, -- thus trading the approval of the people and the Almighty for [that of those few]? Did we bring the world peace and security or did we raise the specter of intimidation and threats?"...(more)
ARCHIVE
For an archive of RFE/RL's coverage of Iran, click here.


THE COMPLETE PICTURE: RFE/RL's complete coverage of controversy surrounding Iran's nuclear program.
CHRONOLOGY
An annotated timeline of Iran's nuclear program.