Today's comment by government spokesman Gholam Hossein Elham comes as Iran's top nuclear negotiator is scheduled to meet in Turkey with EU foreign policy chief Javier Solana.
On April 23, Larijani said his country wants serious talks on the nuclear issue and not "diplomatic games."
In an interview with the Iran's television station Al-Alam, however, Iranian President Mahmud Ahmadinejad said the leadership in Tehran thinks the talks will be useful.
"We think talks between Ali Larijani, the respectable secretary of Iran's Supreme National Council, and Mr. Solana, are very useful and will help to clear up issues and reach a legal and correct solution and also remove problems and help resume useful cooperation in different areas," Ahmadinejad said.
The UN Security Council has imposed two sets of sanctions on Iran over its refusal to halt its uranium-enrichment activities.
Tehran says its nuclear program is peaceful, but Western countries suspect Iran is trying to develop nuclear weapons.
(Reuters, AFP, dpa)
FURTHER READING
Sanctions Controversy

On March 24, the UN Security Council adopted a new round of sanctions against Iran. Tehran denounced the move as "illegal, useless, and unjustified."

more

Inside Bushehr

Iran's Bushehr nuclear plant is more than 90 percent complete. RFE/RL presents a gallery of images from inside the facility.

more
The Proliferation Threat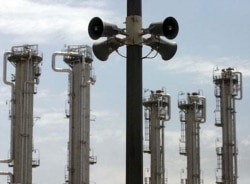 The Arak heavy-water plant in central Iran (Fars)


BENDING THE RULES. Henry Sokolski, executive director of the Nonproliferation Policy Education Center, told an RFE/RL-Radio Free Asia briefing on January 9 that the West is hamstrung in dealing with Iran and North Korea because of the way it has interpreted the international nonproliferation regime to benefit friendly countries like India and Japan.
LISTEN
Listen to the entire briefing (about 90 minutes):

Real Audio
Windows Media
RELATED ARTICLES
Iran, North Korea Present Proliferation Challenges
Tehran Watches As North Korea Tests Global Resolve
Rogue Nuclear Programs Threaten New Arms Race
Why Shouldn't Pyongyang Join Nuclear Club?