EU Eyes Georgia For Caspian-Energy Transit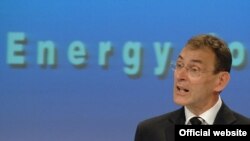 Andris Piebalgs (file photo) (official site) BRUSSELS, April 30, 2007 (RFE/RL) -- The European Union's energy commissioner, Andris Piebalgs, says Georgia is an important transit link in EU ambitions to increase oil and gas imports from Central Asia and Azerbaijan.
Piebalgs spoke today after a meeting with Georgian Foreign Minister Gela Bezhuashvili in Brussels.
He said he has received assurances from Tbilisi that Georgia will develop the necessary infrastructure.
"At this stage, I think the main focus for me and [Bezhuashvili] is the trans-Caspian [route]," Piebalgs said. "We are doing feasibility studies about trans-Caspian energy-supply routes. So, it is not directly touching Georgia, but indirectly, definitely, there is a huge correlation. If there will be more hydrocarbons passing via Baku, then, definitely, we will need increased capacities in Georgia."
Piebalgs noted that the EU currently imports 28 percent of its oil and 29 percent of its gas from Russia.
Exporting Kazakhstan's Energy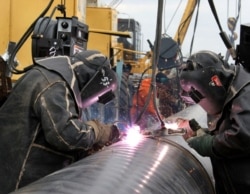 Work on a Kazakh pipeline (TASS file photo)


PRESSURE FROM THE KREMLIN? Columbia University political science professor Kimberly Marten told an RFE/RL briefing that Russia seems to be using its control of gas pipelines in the former Soviet Union to pursue its goals in Kazakhstan.
LISTEN
Listen to the entire briefing (about 60 minutes):

Real Audio
Windows Media
RELATED ARTICLES
The Emerging Post-Soviet Petrostates
Nazarbaev, Merkel Discuss Energy, Bilateral Ties
Nazarbaev Talking Energy, Economic Cooperation On China Visit
ARCHIVE
RFE/RL's coverage of
Kazakhstan
.