In a message read by an aide at a meeting in Vienna of the 188 countries that have signed the agreement, Ban said evidence of the crisis was widespread, highlighting slow disarmament and noncompliance with treaty safeguards.
Addressing the same meeting, Austrian Foreign Minister Ursula Plassnik also noted the current crisis.
The comments come amid continuing tensions between the international community and Iran and North Korea, over the two countries' nuclear programs.
The treaty was signed in 1970 at the height of the Cold War.
(AFP)

The Proliferation Threat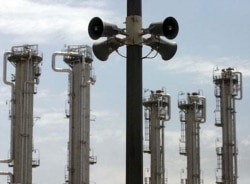 The Arak heavy-water plant in central Iran (Fars)


BENDING THE RULES. Henry Sokolski, executive director of the Nonproliferation Policy Education Center, told an RFE/RL-Radio Free Asia briefing on January 9 that the West is hamstrung in dealing with Iran and North Korea because of the way it has interpreted the international nonproliferation regime to benefit friendly countries like India and Japan.
LISTEN
Listen to the entire briefing (about 90 minutes):

Real Audio
Windows Media
RELATED ARTICLES
Iran, North Korea Present Proliferation Challenges
Tehran Watches As North Korea Tests Global Resolve
Rogue Nuclear Programs Threaten New Arms Race
Why Shouldn't Pyongyang Join Nuclear Club?