Little is known about the circumstances surrounding the arrest of Musavian on April 30 or the official charges against him.
"There is a view that this incident is to some extent related to the increasing political struggle ahead of the parliamentary elections."
'House Arrest'
Mehdi Ghassemi, a journalist with the Iranian daily "Etemad Melli," which was among the first to report on Musavian's arrest, told Radio Farda that the former official was arrested at his house in Tehran.
"Apparently from what is being said he was detained around 1900 in front of his house," he said. "For now all of the information is limited to this."
The official Iranian news agency IRNA confirmed on May 2 the arrest of the former nuclear negotiator and quoted an unnamed "informed source" as saying that Musavian is facing security charges, without giving further details.
Iran's semi-official Fars News Agency reported -- also quoting an unnamed source -- that Musavian has been charged with having "connections to foreign elements and [the] transfer of information to them."
Spy Charges?
The source told Fars that Musavian was probably detained for exchanging information on Iran's nuclear program and added that espionage charges have been brought against him. He added that Musavian, who is currently at Tehran's notorious Evin prison, is being interrogated.
Musavian, a former Iranian ambassador to Germany, was head of the Foreign Policy Committee on Iran's Supreme National Security Council. He was also a key member of Iran's nuclear negotiating team with the European Union.
He was replaced following the 2005 election of President Mahmud Ahmadinejad, and since then has been working as deputy head of a Tehran-based think tank, the Center for Strategic Research.
Musavian is seen as a moderate close to former Iranian President Ali Akbar Hashemi Rafsanjani.
In January, Musavian called for renewed diplomacy in the nuclear standoff with the West and said Iran has no choice other than to return to the negotiating table. He also warned that Iran should not ignore the UN Security Council resolution that called on Iran to suspend its sensitive nuclear activities.
Moderate Voice
In March, Musavian called for a three-pronged approach to negotiations -- including bilateral talks between Iran and the United States that could resolve the nuclear dispute.
Iranian officials have not publicly commented on his case, and there is growing speculation about the reasons for his arrest.
Mohammad Atrianfar, a prominent journalist with ties to Rafsanjani, has told the "Financial Times" that the unconfirmed charge against Musavian is "financial scandal," but he has said that there is "strong speculation" that his detention is related to the nuclear issue.
Atrianfar added that "The move exerts pressure because Musavian was a link to some lobbies outside of Iran." He said: "This is to create a police atmosphere, which is worrying."
Ghassemi said that there is also speculation that an internal power struggle has led to Musavian's arrest.
Political Infighting
"There is a view that this incident is to some extent related to the increasing political struggle ahead of the parliamentary elections [at the end of the year]," he said. "In the seven, eight months that remains before the elections the alignments are becoming clearer. Musavian, as a prominent figure of one of the camps, could maybe play a role in bringing unity among different reformist groups; he has good relations with [former President Mohammad Khatami], with Hashemi Rafsanjani, and apparently also with [moderate reformist cleric and head of the reformist Etemad party, Mehdi Karrubi]."
Jon Alterman, director of the Middle East program at the Washington-based Center for Strategic and International Studies, is quoted by news agencies as saying that drawing conclusions about the arrest is complicated because it is difficult to see inside the Iranian regime. He said it might simply be one more step in a slow dance for power.
The "Baztab" website reports that senior officials and allies of Musavian are involved in efforts to secure his release.
Musavian apparently felt government pressure: he told the ISNA news agency last week that he is in political exile.
(Radio Farda's Hamid Fatemi contributed to this report)
What The Street Thinks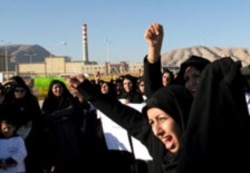 A demonstration in support of Iran's nuclear program outside the Isfahan uranium-conversion facility in Isfahan in January (epa)

IRANIANS SPEAK OUT ON THE DISPUTE: To find out more about what Iranians think about the international controversy over their country's nuclear program, RADIO FARDA asked listeners to express their views....(more)
See also:
Iran: Public Has Mixed Feelings On Nuclear Issue

THE COMPLETE PICTURE: RFE/RL's complete coverage of controversy surrounding Iran's nuclear program.
CHRONOLOGY
An annotated timeline of Iran's nuclear program.