Sarkozy is clearly a strong personality, and his successful campaign for the French presidency has left little doubt about the scale of reforms he plans to make in French society.
But Sarkozy's campaign, like that of his Socialist rival Segolene Royal, was focused almost entirely on domestic issues. Foreign policy was barely touched upon.
Sarkozy, a former interior minister, has no international experience beyond the limited amount gained in his ministerial dealings in such areas as immigration, customs issues, and money laundering.
Sarkozy has pledged to be a good friend of Europe and favors resolving the impasse over the European constitution, which has delayed further integration of the union.
Leaning Toward Washington
But his enthusiasm for the United States is clear in comments he made on election day.
"I want to launch an appeal to our American friends to tell them that they can count on our friendship, which was forged in the tragedies of history that we have faced together," Sarkozy said. "I want to tell them that France will always be by their side when they need her. But I want to tell them, as well, that friendship is accepting that one's friends can think differently."
Walter Posch, European affairs expert at the EU Institute for Security Studies in Paris, says Sarkozy's views are largely unformulated. One has to surmise them from his fragmented comments before his election on May 6.
"[As to] Iran [and] Iraq, he is said to be closer to the position of the United States, but also in classical French manner he is saying [to the Americans] 'we're friends, but we're different,'" Posch says. "So as of now we do not know any plan of Sarkozy's relating to the Middle East."
It is known, however, that he supports diplomatic rather than military efforts to solve the nuclear crisis with Iran.
"If I become president I will fight on two fronts: first, sanctions against the Iranian regime; secondly, for the unity of the international community, we need the Russians and Chinese to apply the sanctions," Sarkozy said during the election campaign.
Sarkozy has previously spoken out against the war in Iraq, and has expressed fundamental support for Israel.
Leaning Away From Moscow
As to Moscow, he is ideologically and temperamentally very distant from President Vladimir Putin's Russia.
Sabrina Fischer, a regional expert at the EU Institute for Security Studies, says Sarkozy's attitude toward Russia is also virtually unknown. But she deduces it by reference to Washington.
"One thing which is very clear I think is that Sarkozy will try to pursue a foreign policy which is more oriented toward the United States, and that may also tell us something about his relationship with Russia, as we know that the relationship between Russia and the United States has come under tension in the past one-and-a-half years. So this may give a sense of direction for his foreign policy in the East," Fischer says.
On the European Union, Sarkozy has pledged to be a good friend of Europe and favors resolving the impasse over the European constitution, which has delayed further integration of the union. European Commission President Jose Manuel Barroso greeted Sarkozy's election with warm words.
"I know Nicolas Sarkozy well, and I know his determination to act and his enthusiasm, of course, for France -- but also for our Europe, " Barroso said. "I have every confidence that Nicolas Sarkozy -- whose convictions I know and whose strong beliefs are known to all -- will play a driving role in resolving the institutional question and in consolidating a political Europe."
The Turkey Question
But one thing that Sarkozy has not left in doubt is his negative view on Turkey's bid to become an EU member.
"The only very clear [foreign policy] point is on Turkey, where he has definitely said 'no,'" analyst Posch says.
Quite apart from Turkey, analyst Fischer does not see the French president-elect as particularly favorable to further eastward expansion of the EU.
"I think that France under Sarkozy will be quite hesitant concerning Ukraine's [EU] accession intentions, but on the other hand he will, of course, support the democratization process there, which at the moment is in difficulties," she says.
On Afghanistan, Sarkozy is likely to favor France's continued military commitment in the conflict against the Taliban. Afghan Foreign Ministry spokesman Sultan Ahmad Bahin was quick to praise him in remarks to RFE/RL's Radio Free Afghanistan.
"The Afghan government welcomes [Nicholas] Sarkozy's victory in the elections," Bahin said. "This is a success for the people of France. We have good ties with France. France has an embassy in Kabul, and we have ours in France. And we have the full support of both the government and the people of France."
Sarkozy replaces outgoing President Jacques Chirac in office on May 16.
Thinking Strategically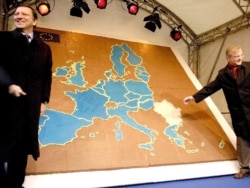 EU officials discussing enlargement at a meeting in December 2006 (epa)
OVER THE NEXT HURDLE: Bruce Jackson, president of the Project on Transitional Democracies, gave RFE/RL a wide-ranging presentation on issues related to European integration in the Balkans and Eastern Europe, as well as strengthening relations between the West and Central Asia.
LISTEN
Listen to the entire briefing (about 60 minutes):

Real Audio
Windows Media
RELATED ARTICLES
Kremlin Sees Its Foreign-Policy Star On Rise
Brussels Mulls Over Its Energy Sources
Experts Ponder Future 'Gas Wars'
The Fate Of The Multivector Model In Central Asia
SUBSCRIBE
For daily news updates from throughout RFE/RL's broadcast region by e-mail,
subscribe to "RFE/RL Newsline."