The compromise opens the door to a discussion on compliance with nuclear rules.
The two-week conference in Vienna had been deadlocked since opening on April 30 as Iran, which the United States charges is secretly developing the atomic bomb, objected to an agenda item that called for full compliance with the nuclear Nonproliferation Treaty (NPT).
Rice And Mottaki Comment
U.S. Secretary of State Condoleezza Rice told Al-Arabiya television today that President George W. Bush will keep military options on the table as he seeks a diplomatic solution to the standoff with Iran over its nuclear program.
Meanwhile, Iranian Foreign Minister Manuchehr Mottaki today said Tehran opposes nuclear weapons and only wants nuclear technology for peaceful purposes.
Mottaki made the statement in Oslo at a news conference with his Norwegian counterpart, Jonas Gahr Stoere.
On May 7, European Union foreign policy chief Javier Solana said his talks recently with Iran on its disputed nuclear program are very difficult because Tehran does not want to suspend uranium enrichment.
"The situation, as you know, is very difficult, because what we are demanding from Iran is the suspension of their [uranium-enrichment] activities as long as the negotiations take place," Solana said. "I mean it's a sort of demand to start the negotiations, pure negotiations, with a level field. They will not continue at this point in the negotiations."
Solana said the only agreement he reached with Iran's chief nuclear negotiator, Ali Larijani, during two days of talks in Ankara last month was to report back ideas they discussed and keep their channels of communication open.
(AFP, AP, Reuters)
Talking Technical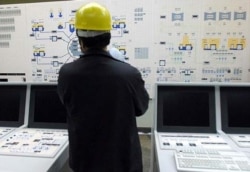 A control panel at the Bushehr nuclear power plant (Fars)

CASCADES AND CENTRIFUGES: Experts and pundits alike continue to debate the goals and status of Iran's nuclear program. It remains unclear whether the program is, as Tehran insists, a purely peaceful enegy project or, as the United States claims, part of an effort to acquire nuclear weapons.
On June 7, 2006, RFE/RL correspondent Charles Recknagel spoke with nuclear expert Shannon Kile of the Stockholm International Peace Research Institute in Sweden to help sort through some of the technical issues involved. "[Natanz] will be quite a large plant," Kile said. "There will be about 50,000 centrifuges and how much enriched uranium that can produce [is] hard to say because the efficiency of the centrifuges is not really known yet. But it would clearly be enough to be able to produce enough [highly-enriched uranium] for a nuclear weapon in fairly short order, if that's the route that they chose to go...." (more)
RELATED ARTICLES
Tehran Says It Is Working On Advanced Nuclear Fusion
Would Light-Water Reactor Suit Tehran's Needs?
Satellite Images Raise Questions About Iran's Nuclear Program
Centrifuges And Political Spin?
How Close Is Iran To Getting Nuclear Bomb?
Iran: The Worst-Case Scenarios

THE COMPLETE STORY: RFE/RL's complete coverage of controversy surrounding Iran's nuclear program.