Kazakhstan's minister of energy and mineral resources, Baktykozha Ezmukhambetov, and the head of Russia's Federal Atomic Energy Agency, Sergei Kiriyenko, signed an intergovernmental agreement to that effect today.
The document was signed during a visit to Astana by Russian President Vladimir Putin.
The signing took place with Putin and Kazakh President Nursultan Nazarbaev in attendance.
The center -- in Russia's Irkutsk region -- is expected to be made available to use by foreign countries that want to process nuclear fuel for energy generation. In theory, its operations could eliminate the need for such countries to build their own facilities to enrich uranium.
Stronger Energy Ties
During his meeting with Nazarbaev, Putin said Moscow was ready to participate in the construction of a nuclear power plant in Kazakhstan.
Nazarbaev vowed to bolster energy ties with Russia, saying Kazakhstan was "absolutely committed to transporting most of [its oil], if not all of it, through Russian territory."
Nazarbaev also expressed interest in pumping Kazakh oil through a planned pipeline -- backed by Russia -- that will connect the Bulgarian Black Sea port of Burgas to the Greek port of Alexandropolis on the Aegean Sea.
Gas has also been on the agenda of this Russian-Kazakh meeting. Russia's Gazprom reached what was described as a "very important" agreement with Kazakh partners on the terms of a joint venture on the premises of the Orenburg gas refinery.
Gazprom CEO Aleksei Miller said the agreement involved the terms for supplies of natural gas from the Karachaganak field in northern Kazakhstan.
Regional Tour For Putin
On May 11, the Russian and Kazakh presidents are scheduled to visit Turkmenistan for a three-way summit with Turkmen President Gurbanguly Berdymukhammedov. That tripartite meeting is also expected to focus on energy cooperation.
Putin is scheduled to return to Kazakhstan on May 12 for further energy talks.
Russia's "Kommersant" daily described the ultimate aim of Putin's current Central Asian tour as preventing the construction of trans-Caspian pipelines that bypass Russia.
(Interfax, ITAR-TASS, AFP, Reuters)
Nuclear Power's Resurgence
Nuclear Power's Resurgence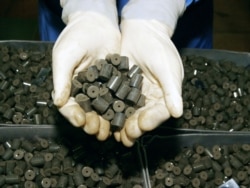 Nuclear-fuel pellets being produced in Kazakhstan (TASS)

LOOKING FOR ALTERNATIVES. Despite warnings from scientists, the world seems unable to stem its insatiable appetite for fossil fuels, which are producing the greenhouse gases blamed for global warming. And emissions are set to rise dramatically in the next few years. Is it time for the environmental movement to drop its opposition to nuclear power? (more)
RELATED ARTICLES
IAE Report Urges Governments To Embrace Nuclear Power
Russia's Nuclear Ambitions Heating Up
Moscow Seeks To Reignite Nuclear Power Industry
France Chosen To Host Experimental Fusion Reactor Project
China/India: Emerging Giants Look To Nuclear Power


Reports from an RFE/RL conference on energy-security issues.